Jewish World Review Dec. 23, 2003 / 28 Kislev, 5764

Frank J. Gaffney, Jr.
Moammar's makeover
http://www.NewsAndOpinion.com | Less than a week after U.S. forces pried a bedraggled Saddam Hussein from a hole in the ground and escorted him to prison awaiting trial for his crimes against humanity, another Arab despot signaled to the world that he had no interest in meeting a similar fate. Libyan dictator Moammar Gadhafi declared on Friday he was willing verifiably to give up his country's various weapons of mass destruction (WMD) and his programs to acquire more.

The question occurs: Even if Col. Gadhafi took these steps, and met U.S. demands that he also end his longstanding support for international terror, should the United States and its allies endorse — and facilitate — his continued hold on power in Libya?

To be sure, President George W. Bush and British Prime Minister Tony Blair are entitled to credit for bringing Col. Gadafi even this far. His promises to disarm would never have happened without the object lesson of what befell his Iraqi counterpart. While Tripoli was anxious to get out from under U.S. and international sanctions long before the liberation of Iraq, the negotiations that resulted in last week's pledges coincided with, and clearly were powerfully influenced by, the campaign that toppled another WMD-armed, terror-sponsoring regime.

To its credit, too, the Bush administration has indicated it will not be rushed into normalizing relations with Libya. For one thing, there is powerful reason, given his track record, to be concerned the dictator will not honor his commitments. Col. Gadhafi is notoriously erratic, unpredictable and unreliable. In fact, as the New York Times reported Sunday, his mercurial diplomatic and personal antics have made the Libyan despot an object of ridicule in Arab governing circles.

For another, the difficulty in finding WMD in Iraq underscores how hard it is to know the full extent of a totalitarian system's covert weapons program, let alone ensure its eradication. This needs to be remembered especially at a time when a U.S. intelligence official says he has been "blown away" by the degree of transparency afforded by the Libyans in recent months of secret diplomacy leading to Friday's announcement.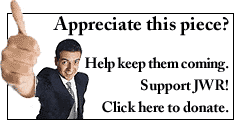 After all, Col. Gadhafi has spent untold billions constructing his so-called "Great Man-Made River Project," a stupendous network of underground tunnels and caverns built with the help of Western firms to run the length and width of the country. Engineers associated with one of these companies have revealed their suspicion that such facilities were not meant to move water, but rather to conceal the movement and location of military-related activities.

Ensuring the Man-Made River's vast buried spaces are permanently unavailable for proscribed uses may surpass the abilities of existing international WMD-monitoring agencies.

Then there is the matter of terror. It was probably no coincidence Col. Gadhafi's much-ballyhooed commitment to disarm preceded by two days the 15th anniversary of the murderous destruction of Pan Am 103. Although a Libyan agent was convicted of responsibility in that terrorist attack, the man who doubtless ordered it, Moammar Gadhafi, remains unindicted.

What is more, as recently as last August, a charity widely believed to be used by Col. Gadhafi to fund international terrorism was allegedly the source of $340,000 in sequentially marked $100 bills given to Abdurahman Alamoudi. The American activist with ties to Islamist extremists was arrested and charged with planning to use the Libyan funding to support terrorist groups — if true, a warning about Col. Gadhafi's true intentions.

It is predictable that the Bush administration will nonetheless come under intense pressure to abandon its "show-me" attitude. The demand will inexorably grow for the removal of sanctions currently preventing U.S. oil and other companies from engaging in investment or commerce with the Libyan regime.

Fortunately, the president appears to understand that acceding to such pressure will compromise, and possibly eliminate, the leverage indispensable to Libya's genuine and complete disarmament and an end to its involvement with terror.

The danger is that — even if Mr. Bush does indeed hold out for, and achieve, such changes — he may be willing to accept Col. Gadhafi's continued despotic rule. Such an outcome flies in the face of his statement last month before the National Endowment for Democracy:

"Sixty years of Western nations excusing and accommodating the lack of freedom in the Middle East did nothing to make us safe, because in the long run stability cannot be purchased at the expense of liberty. As long as the Middle East remains a place where freedom does not flourish, it will remain a place of stagnation, resentment and violence ready for export. And with the spread of weapons that can bring catastrophic harm to our country and to our friends, it would be reckless to accept the status quo."

In the end, freedom is vital not only to stability. It is also essential to the durability of commitments to disarm and to renounce terror.

Welcome as such commitments are, the United States must not allow tyrants to buy legitimacy, let alone Western economic or other life-support, by what are likely — in the absence of flourishing freedom — to prove to be empty and costly promises of improved behavior.
Every weekday JewishWorldReview.com publishes what many in Washington and in the media consider "must reading." Sign up for the daily JWR update. It's free. Just click here.

JWR contributor Frank J. Gaffney, Jr. heads the Center for Security Policy. Send your comments to him by clicking here.

© 2003, Frank J. Gaffney, Jr.