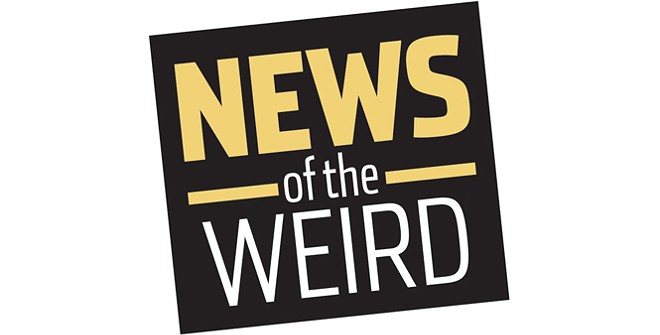 • Police and firefighters in Liberty, Ohio, were called to the Liberty Walmart on the afternoon of Nov. 16 to find a car on fire in the parking lot, reported WFMJ.
Owner Stephanie Carlson, 40, told them there was a can of gas in the trunk and she had lighted a candle to get rid of the smell, but she later admitted she had poured gas on the seats and started the fire with a lighter because the car was dirty and there was a problem with the front wheel.
The car belonged to her husband, who said he had been looking for her all day, and also told officers she had allegedly been found huffing mothballs and paint thinner recently.
Police took her into custody and found a lighter and mothballs in her purse; she was charged with arson, inducing panic and criminal damaging. [WFMJ, 11/20/2019]

• After the death of their uncle, Sifiso Justice Mhlongo, in the KwaZulu-Natal province of South Africa, Thandaza Mtshali and Thobeka Mhlongo ran into trouble trying to settle a claim on his life insurance.
According to The Daily Star, Old Mutual required confirmation the man had passed away and delayed payment because they were waiting for "additional assessments."
So on Nov. 19, the women went to the funeral home, retrieved their uncle's body and took it to the company's local office. "They said they had paid the money into our bank account and we wanted to be sure," Mtshali said, "so we left the body at their office and went to check at the bank."
When they had their money, they returned the body to the funeral home, and Mr. Mhlongo now rests in a family burial plot.
Old Mutual pronounced the incident "most unsettling," and promised a full investigation, but Muzi Hlengwa, spokesman for the National Funeral Practitioners Association of South Africa, said the matter was far from over:
"The rituals that were supposed to be done to move the body from one place to another were not done. The soul of that man is still left at the Old Mutual, so they will have to cover the costs of performing these rituals." [Daily Star, 11/20/2019]