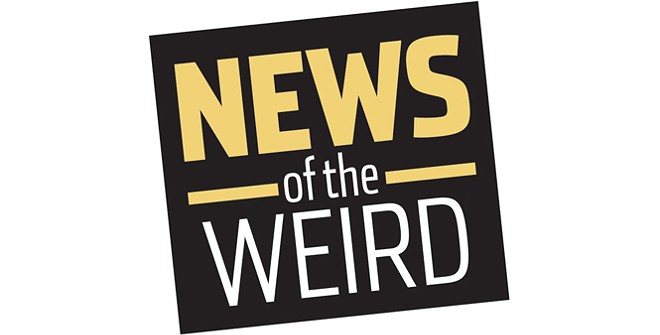 • Bodybuilder Kirill Tereshin, 23, a former Russian soldier also known as Popeye, underwent surgery in Moscow in mid-November after doctors told him that the petroleum jelly he had been injecting into his biceps to increase their size might result in the amputation of his arms.
Surgeon Dmitry Melnikov told Metro News: "The problem is that this is petroleum jelly. (Tereshin) injected this so thoroughly that it spread in the muscle and killed it."
In this first of four surgeries, doctors removed 3 pounds of dead muscle and 3 liters of jelly that had formed into a solid lump.
The injections were causing Tereshin high fevers, pain and weakness.
Following the operations, doctors have told Tereshin, he will have arm movement but his arm muscles will be diminished. [Metro News, 11/20/2019]

• When Martin Skelly, 41, was arrested on Nov. 16 in a Clearwater, Florida, McDonald's for possession of methamphetamines, he told officers he did not have any other contraband.
But during his intake at the Pinellas County Jail, a deputy found a "small bag of crystal powder substance wedged deep within (his) belly button cavity," Fox News reported, which later tested positive for meth.
Skelly, who is 5-foot-9 and weighs 380 pounds, received two additional charges for introducing contraband into a correctional facility and narcotics possession. [Fox News, 11/20/2019]