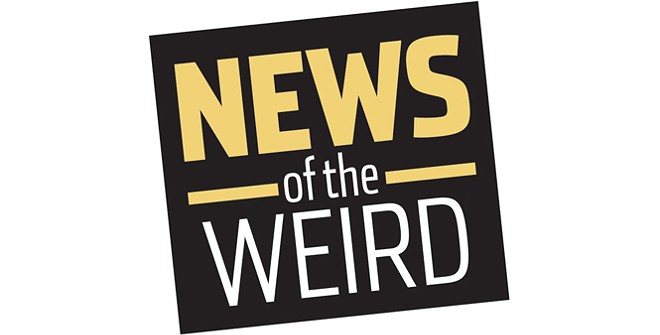 • Maybe they're betting no woman will reveal what she weighs in public, but the Fusion Club in Dubai, United Arab Emirates, is offering women free drink credits based on their weight. For example, a woman who weighs 150 pounds would receive about $18.50 in free cocktails.
Anil Kumar, spokesman for the club, told Insider that while they have a scale behind the bar, they will also accept a woman's word about what she weighs. "They can just write the weight on a paper and give it to the bartender discreetly," he said. "Very simple, no strings attached. We wanted the ladies to surprise their partners and friends that it's good to gain weight!" [Insider, 11/15/2019]

• A 16-year-old boy was detained by U.S. Border Patrol agents on Nov. 17 after an agent saw him hiding in brush about a mile north of the Otay Mesa Point of Entry near San Diego.
Authorities said the teenager had a remote-control car with him, along with two large duffel bags stuffed with 50 packages of methamphetamines, weighing more than 55 pounds and worth more than $106,000.
Border Patrol spokesman Theron Francisco told The San Diego Union-Tribune that authorities believe the car was used to carry the bundles across the border, making many trips through the bollard-style fence from the south side and driving to the teen on the north side.
The boy was charged with drug smuggling and held in Juvenile Hall. [San Diego Union-Tribune, 11/19/2019]