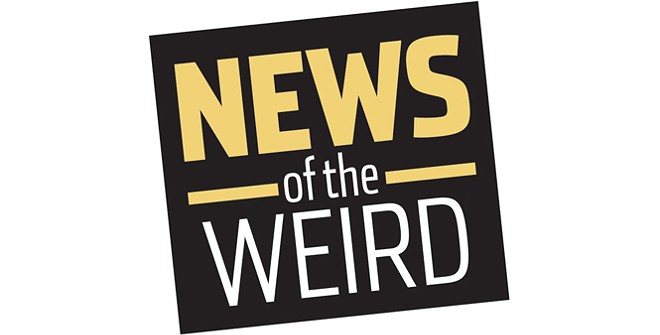 • Talk about bringing down the room.
Late on Nov. 2 in Hattingen, Germany, about 300 patrons of a swingers' club were interrupted mid-party when carbon monoxide alarms sounded and several began to feel unwell.
Firefighters escorted the swingers, many clad only in bathrobes, to safety, with about 10 people requiring treatment, reported the Associated Press.
However, firefighters could not detect any dangerous level of carbon monoxide once they arrived on the scene.

• When Coco the shiba inu was hit by a car on Oct. 28 in Schenectady, New York, the driver stopped and noticed some damage to her car, but couldn't see what she had hit, so she drove on.
About an hour later, Rotterdam Police Lieutenant Jeffrey Collins told WNYT, the driver stopped again when she heard noises.
This time, she saw Coco, who was lodged in the car's bumper. "It was like the perfect fit," said Noella LaFreniere of the Hernas Veterinary Clinic where Coco was treated.
"She ... came out alive, and it's shocking to us."
Coco suffered a broken elbow but no other serious injuries. Police have located her owners.