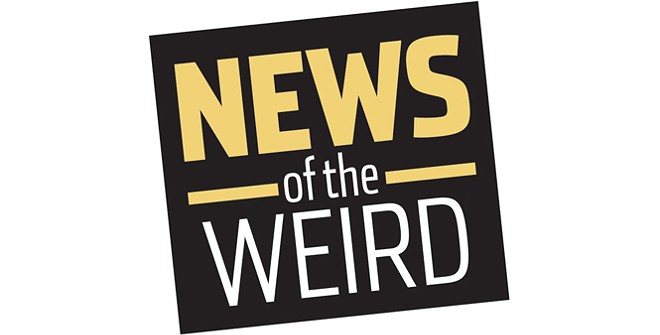 • After six years of litigation, six men were found guilty of attempted murder in late October in Guangxi, China, for participating in a chain of subcontracted murder-for-hire plots that never resulted in a death.
Businessman Tan Youhui started the chain by hiring a hit man to "take out" a rival identified only as Mr. Wei, reported the BBC. That hit man then subcontracted a second hit man to do the dirty deed.
Hit man No. 2 subcontracted with hit man No. 3, who then reached out to hit man No. 4. After getting the nod from No. 4, hit man No. 5, Ling Xiansi, decided on a different scheme: He contacted the target, Mr. Wei, and proposed they fake the murder and take the cash, which by this point amounted to 100,000 yen.
Wei agreed, then reported the case to the police. Tan and the five hitmen will serve sentences ranging from 31 months to five years. [BBC, 10/22/2019]

• Miguel Angel Reyes-Avila, 23, of Half Moon Bay, California, waited patiently until his neighbors took their dog for a walk on Oct. 6, then pounced, according to the San Mateo County Sheriff's Office.
The San Jose Mercury News reports Reyes-Avila then allegedly entered their home through an open window and lifted about $4,000 worth of jewelry, plus the keys to their 2009 Mitsubishi.
When the neighbors returned home and found their car gone, they called police, who asked neighborhood folks to share their security footage.
Most helpful was the video from Reyes-Avila's own home, provided by another resident who was happy to help law enforcement.
The camera caught a suspect driving away in the car, and sheriff's office spokesperson Rosemerry Blankswade said officers recognized Reyes-Avila from earlier incidents and arrested him on Oct. 10 on charges of felony burglary and grand theft auto. [San Jose Mercury News, 10/17/2019]