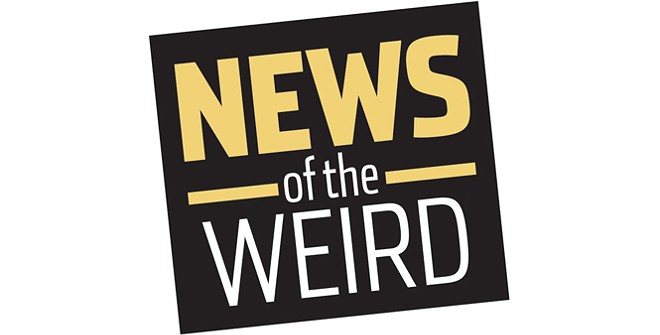 •
Construction workers in Valdosta, Georgia, were rattled when they tore down a second-story wall in a turn-of-the-20th-century building to find about 1,000 human teeth secreted inside.
The T.B. Converse Building, constructed in 1900, was originally home to a dentist, Dr. Clarence Whittington, reported the Valdosta Daily Times. In 1911, Whittington was joined by Dr. Lester G. Youmans.
Ellen Hill, director of Valdosta Main Street, said two other Georgia towns have had buildings, also home to dentists' offices, where teeth have been found in the walls.
"I'm not sure if it was a common practice" to deposit extracted teeth in the walls, she said.
Valdosta police said there was no evidence of a crime. [Valdosta Daily Times, 10/31/2018]
• WPVI-TV in Philadelphia reported about a new fashion accessory: the Skin Heel.
These thigh-high boots feature moles, hair and uneven skin tones, and the shoes are meant to look like surgically altered feet, with toes and long, realistic-looking skin-colored spikes on the heels.
Conceived by Montreal, Canada, designers Hannah Rose Dalton and Steven Raj Bhaskaran, the creepy footwear will set buyers back $10,000.
Fortunately, they've produced only one pair so far. [WPVI, 10/30/2018]