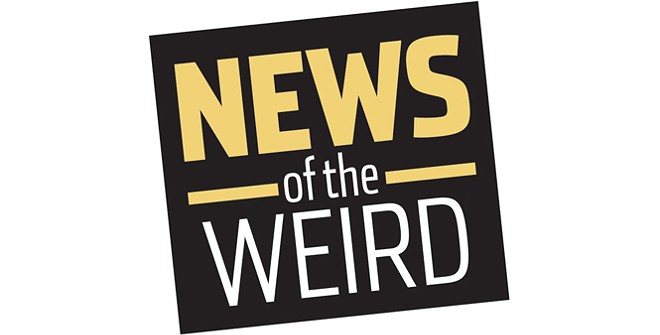 •
West Virginia MetroNews reported that, for Jackie Fullmer, 37, of Fairmont, West Virginia, Oct. 9 started with trying to steal car keys from a woman at knife point. When police caught up to her, she ran toward their car with a hatchet and knife, prompting a deputy to shoot her with a stun gun.
Fullmer turned to verbal attacks while being transported to the Fairmont Police Department, warning officers she was going to stab them in the neck and watch their "blood drain as she drank it" -- which, as it turns out, she could have done, because she had a knife hidden between her buttocks.
That weapon was found during booking, and Fullmer admitted she had slashed the seat belt in the police cruiser with it before threatening to slit the officers' throats. She was charged with threats of terrorist acts and attempted robbery. [West Virginia MetroNews, 10/9/2018]
• In an apparent attempt to destroy what little brainpower he had left, 26-year-old Brandon McVay of Council Bluffs, Iowa, ate a Tide Pod, prompting a trip to the hospital. But while he was being treated in the critical care unit, McVay went on a rampage early on Oct. 4, causing thousands of dollars of damage to medical equipment, according to the Omaha World-Herald.
A nurse told the responding police officer that McVay "was yelling loudly" as he broke objects in his room before proceeding to the hallway.
Keyboards, computer monitors and glass valued at more than $7,500 were found littering the hallway, where McVay was subdued by security before police arrived. McVay was arrested and held at the hospital on charges of second-degree criminal mischief and disorderly conduct in a place of business. [Omaha World-Herald, 10/12/2018]