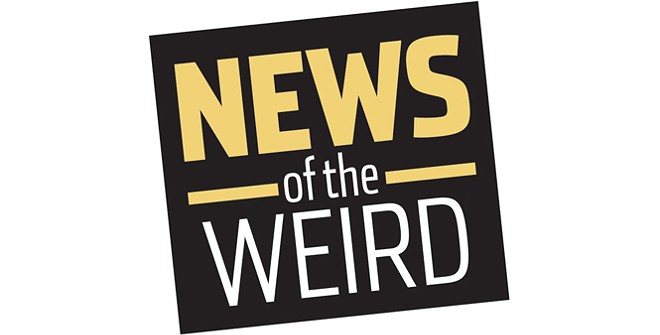 • Springfield, Missouri, authorities have come up with a clever campaign to curb pet waste in the downtown area, the Associated Press reported. Piles of dog poop are being tagged with recycled paper flags sporting messages such as: "Is this your turd? 'Cuz that's absurd," and "This is a nudge to pick up the fudge." The city noted it spends $7,500 a year to pick up 25 pounds of waste per week from downtown parks and parking lots. [Associated Press, 10/10/2019]

• In downtown Vancouver, British Columbia, Canada, on Oct. 8, an unnamed elderly driver managed to flip her Honda Accord and injure herself, her passenger and several pedestrians while trying to ... parallel park.
According to CTV News, as she tried to back into a parking spot, the driver accelerated, jumping the curb and slamming into an immigration office before coming to rest on the sidewalk.
Vancouver Police Sgt. Aaron Roed called the incident "a strange accident" and wished all the injured "a speedy recovery." [CTV News, 10/8/2019]