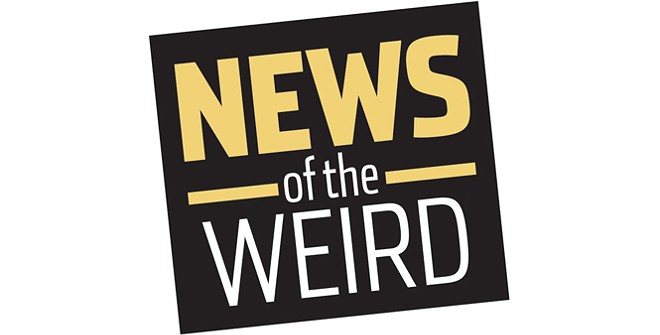 • Tina Springer, 44, was the passenger in a car driven by Brent Parks, 79, as they stopped to let a train pass in Enid, Oklahoma, on Oct. 3.
Parks' yellow Labrador retriever chose that moment to jump from the back seat onto the center console, causing a .22 caliber handgun stored underneath to discharge and strike Springer in the left thigh.
The Enid News & Eagle reported that Parks, whom Springer is a caretaker for, told police he doesn't usually carry the weapon loaded.
Springer was taken to a hospital for treatment. [Enid News & Eagle, 10/3/2019]

• Homeowner Linda Taylor-Whitt of Lynwood, Illinois, and her family returned home from a birthday dinner on Oct. 5 to find "a wheel coming through my washroom ceiling" in an upstairs bathroom.
Taylor-Whitt, who lives about a mile from Lansing Municipal Airport, told the Chicago Tribune she "didn't know what kind of wheel it was at first. I guessed it was an airplane wheel," she said.
But it was from a helicopter, according to Amy Summers of SummerSkyz Inc., a helicopter flight school in Lansing.
When Summers heard about the incident, she knew she'd found the ground-handling wheel she'd been missing, and called Taylor-Whitt to apologize.
The wheel had apparently been left on one of the company's helicopters during flight and fell off.
Taylor-Whitt was relieved the damage wasn't worse: "I am glad -- thank you, Lord -- that it was a wheel instead of a plane because it could've been so bad." [Chicago Tribune, 10/8/2019]