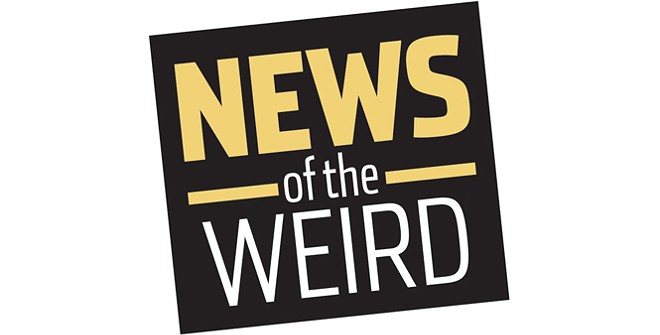 • A front-door camera in McDowell County, North Carolina, twice captured a bold loiterer on the home's porch: a naked man.
Sheriff's officers arrested Denny Lynn Dover, 45, in early October after identifying him by his distinctive tattoos, The McDowell News reported.
Dover had visited the home in April and again on Oct. 3, when he attempted to break in. He was charged with first-degree burglary and held on $50,000 bond.
Dover isn't new to a life of crime: He also has convictions for arson, drug possession, larceny, peeping and breaking in. [McDowell News, 10/7/2019]

• The Louisville Courier Journal reported that Knox County (Kentucky) Sheriff's deputies arrested Barrett L. Sizemore, 48, of Heidrick, on Oct. 4 for theft of a "honey wagon" -- a septic cleaning truck -- in Barbourville.
The truck went missing on Oct. 2, and authorities located it in a barn in Laurel County, not far from where Sizemore was arrested. He is being held on a $10,000 bond. [Louisville Courier Journal, 10/5/2019]