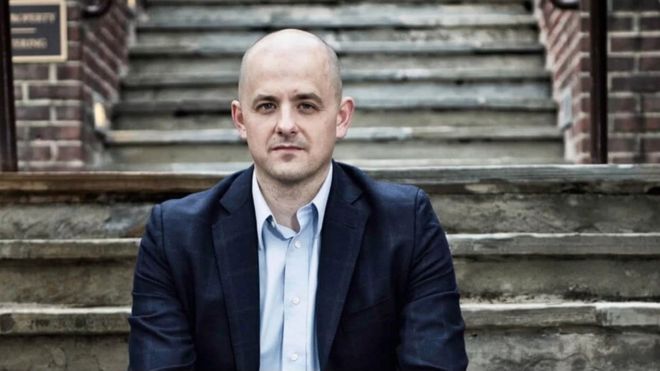 PROVO, Utah -- Conservative independent presidential candidate Evan McMullin has made his mark on the 2016 race. Already many are asking: What will the upstart politician do with his newfound fame and popular support? The question has establishment Republicans both in Utah and Washington worried.
The 40-year-old Mormon, former CIA agent, businessman and Capitol Hill staffer has built up a loyal and enthusiastic base of supporters here in Utah who are willing to follow him on his next endeavor, whatever that may be. More than 500 of them showed up Monday night at McMullin's election eve rally in Provo, which also featured a performance by "James the Mormon," Utah's leading local rapper.
Listening to McMullin's speech, there's no doubt he's going to continue on in politics. And Republicans in Utah and Washington could be forgiven for thinking McMullin does not care at all about the Republican Party's survival, much less its support.
"A party is a means to an end. It's not a religion, it's not a family," he said. "And if our parties and leaders leave us, then we need to chart a new path on our own."
The leading speculation in Utah is that McMullin will run for Senate in 2018. Incumbent Orrin Hatch will be 84 by then and may retire.
In Utah, Trump's popularity is particularly low and voters may look for lawmakers to punish. Also, Utah has a recent record of tossing its elderly senators off the mountain. Sen. Mike Lee, R-Utah, outflanked incumbent Bob Bennett in the GOP senate primary in 2010.
In his rally speech, McMullin singled out a potential rival for Hatch's senate seat for hypocrisy on Trump without directly naming him: Rep. Jason Chaffetz.
"On the Republican side, many of our leaders have failed to stand up to Donald Trump. In some cases, they did for a moment," he said. "One said, 'I could never look my daughter in the eye if I supported Donald Trump.'"
Chaffetz made that exact comment on CNN only two weeks ago after Trump was caught on tape bragging about assaulting women and getting away with it due to his celebrity.
"But then just two weeks later . . . these leaders were back on board the Trump train," McMullin said. "If they won't stand up for these things and they won't stand up for us or others who are being attacked, then what good are they? What leadership are they offering?"
McMullin also made a point to tout the endorsements of several Utah mayors, state legislators and city council members, while noting that more senior Utah politicians were conspicuously absent from that list.
One Republican operative in Utah told me that senior Utah figures such as Mitt Romney and Jon Huntsman Jr. failed to support McMullin openly despite their disdain for Trump because they also are looking ahead to the 2018 senate contest. The McMullin campaign received no PAC support and had to rent Romney's contact lists at market rates.
"When they saw Evan surge in the polls, they thought of him as more of a political rival or threat, rather than someone taking the message they supported and battling Trump," the operative said.
Josh Romney, Mitt's son, may be preparing for a Senate run. Huntsman himself may vie for the job. Chaffetz is certain to test the waters. Rep. Mia Love, R-Utah, is also thought to want to run, but with lower chances.
"The odds are high, if Hatch decides not to run, that you have several people trying to raise their profile and claim a seat in a senate," the GOP operative said. "If Hatch does run, the question is, does someone primary him because he's gotten old and out touch?"
Back in Washington, establishment Republicans are already planning how to put the pieces of the party back together if Trump loses. Last month a group calling itself "Restart GOP" held a meeting in D.C. to figure it out. According to their mission statement, they want to the GOP to hold the Trump supporters accountable, reach out to younger voters and make the party inclusive of all racial and religious groups. These are all themes that McMullin has run on.
But McMullin, true to form, literally crashed the party by showing up at the meeting uninvited and telling the assembled Republicans their party may be beyond saving.
The McMullin team insists that they are not yet planning for after the election. They are focused on winning Utah and perhaps, if an extremely unlikely scenario plays out, blocking both Trump and Clinton from getting a majority of the electoral college votes and battling for the presidency in the House of Representatives.
But McMullin's last appeal to his supporters was a clear sign he intends to stay in the game in a way that is sure to upset the Republican establishment. He called on his followers to "send a message to Washington, D.C., that they will not be able to ignore."
Comment by clicking here.
Josh Rogin is a columnist for the Global Opinions section of The Washington Post. He writes about foreign policy and national security.