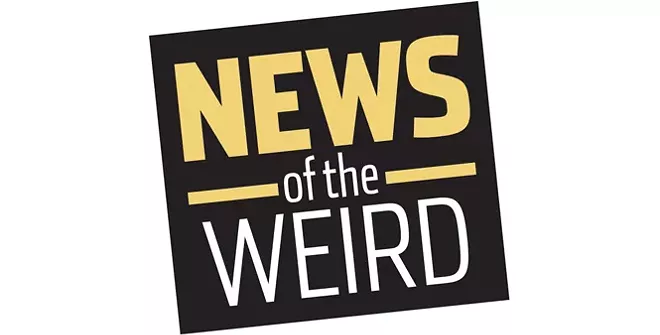 • -- Daytona Beach, Florida, police arrived at the home of Lovely Butts, 64, on the evening of Sept. 14, where they found a female juvenile relative standing in the front yard, smelling of bleach.
The girl, who was described in the police report as Butts' "primary caregiver," told police she had argued with Butts about "the location of her medicine" and that Butts had thrown bleach at her, striking her in the face and mouth.
Butts also allegedly threatened to pistol whip the girl. The Smoking Gun reported that Butts was charged with aggravated assault and child abuse; police confiscated her unloaded pistol from her nightstand. [The Smoking Gun, 9/16/2020]
• Mark King of Wolcottville, Indiana, went to war with imaginary enemies on Sept. 13 after using methamphetamine on the previous two days, according to the LaGrange County Sheriff's Department. Deputies responding to reports of a man swinging a broom handle around and hollering in a yard, found King as he left a neighbor's garage after having thrown a gun through the building's window.
Previously, police determined, King had allegedly shot up the inside of his own home, imagining that people were trying to break in and steal some of his belongings.
WANE reported King was transported to a hospital and later charged with possession of meth and paraphernalia. [WANE, 9/14/2020]