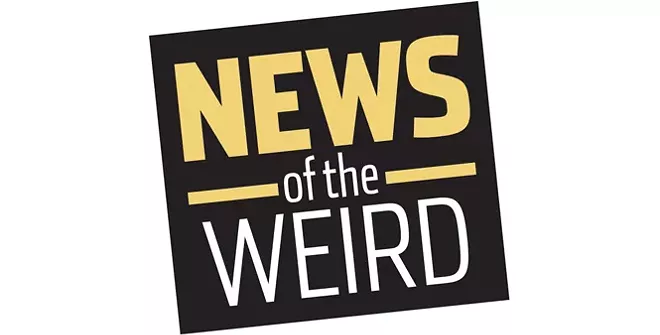 • A commuter boarded a bus between Swinton and Manchester, England, on Sept. 14 sporting what one fellow passenger thought was a "funky mask" until it started to move. The face mask turned out to be a live snake, wrapped around the man's neck and over his nose and mouth, the BBC reported. Another passenger took photos and posted them on Twitter, commenting "each to their own and all that."
"No one batted an eyelid," another rider said. Transport for Greater Manchester, however, said in a statement that "snakeskin -- especially when still attached to the snake" is not suitable for masks. [BBC, 9/16/2020]
• In response to the ongoing coronavirus pandemic, French fashion house Louis Vuitton announced it will release a protective visor Oct. 30 in its stores worldwide that Vogue reports is "the most luxurious take on a plastic face shield that we've seen to date."
The LV Shield is trimmed with the designer's signature monogram and gold studs engraved with the company's logo.
It doubles as a sun visor, changing from clear to tinted when exposed to sunlight, and also can be flipped up and worn as more of a cap.
Although a price for the shield has not been set, Vogue estimates it to be somewhere between the cost of a typical Vuitton hat, $700, and sunglasses, $800. [Vogue, 9/10/2020]