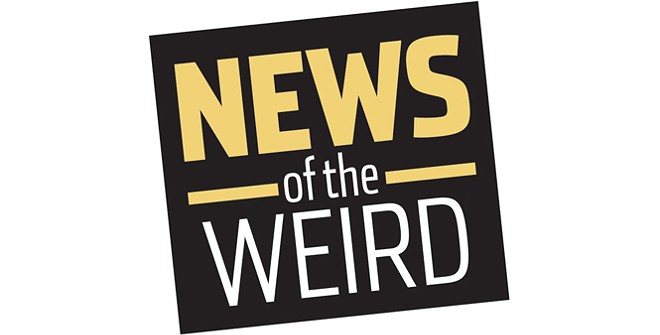 • Two football-crazed fans of Kansas City Chiefs QB Patrick Mahomes couldn't quite pull off a heist in Lawrence, Kansas, on Sept. 16.
Pulling up to a McDonald's, the two ran inside, grabbed a life-size cardboard cutout of Mahomes and ran out, stuffing the promotional piece into their car.
Lawrence Police spokesman Patrick Compton told the Lawrence Journal-World that as they received the call about the theft, they were working a car crash nearby -- in which one of the vehicles just happened to have a Mahomes cutout in the back seat.
Officers questioned the suspects and ordered them to appear for alleged theft. Flat Pat was returned to the McDonald's. [Lawrence Journal-World, 9/18/2019]

• Paul Nixon, 51, is sought in Harris County, Texas, on charges of felony aggravated perjury after taking a novel approach to divorce.
Nixon filed for divorce in February but forged his wife's signature and the name of a notary on the legal papers, the New York Post reported.
A judge declared the divorce final in April -- but the wife didn't find out until May, when she noticed strange spending habits of his.
"She started finding things showing that he was spending money on jewelry, so she confronted him and he told her that they were actually divorced," Constable Mark Herman said. "They are still married. The fraudulent divorce papers have been retracted."
However, Nixon, who could face 10 years in prison, had so far eluded police. [New York Post, 9/18/2019]