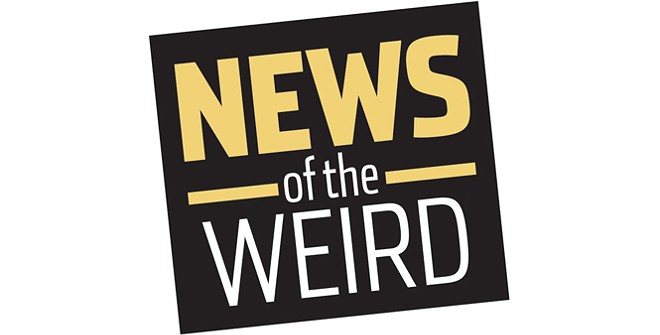 • For her wedding in Omaha, Nebraska, Deanna Adams, 40, told her bridesmaids, including her sister and maid of honor, Christina Meador, they could wear "anything" they'd be comfortable in.
So after carefully considering several options, Meador chose her outfit: an inflatable T. rex costume.
As the bride and her groom took their vows, Meador towered over them, delicately clutching her bouquet of sunflowers and, no doubt, shedding a few dinosaur tears.
Meador, 38, told Adams ahead of time that she would wear the costume, according to the Omaha World-Herald, giving Adams a chance to shut the idea down, but her sister didn't balk.
In fact, Adams defended the choice on Facebook: "It's a giant middle finger at spending thousands of dollars and putting ungodly amounts of pressure on ourselves ... The point was to get married to the man who treats me like I hung the moon, and we did that part." [Omaha World-Herald, 9/5/2019]

• Izaebela Kolano, 49, of Nutley, New Jersey, pulled a fast one on Costco employees in two stores on Sept. 1, police said.
Kolano first visited a Costco in Wayne, New Jersey, where she allegedly stole a $2,000 diamond ring.
Then, authorities say, she went to a store in nearby Clifton, where she asked to see a $28,000 diamond ring -- and handed back the $2,000 ring, which was similar.
Costco employees didn't notice the switcharoo until Kolano was out of the building, the Associated Press reported.
Police found Kolano at home, and eventually recovered the ring. Kolano was charged with theft. [Associated Press, 9/4/2019]