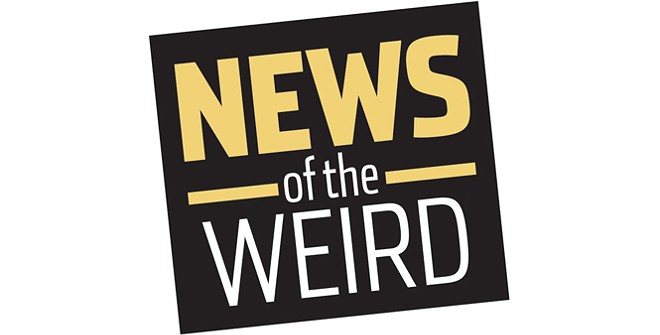 • A Whataburger location in Bastrop, Texas, was the scene of a gruesome plunge to an oily demise.
As customers waited in line at the counter, the Austin American-Statesman reported, kitchen workers tried to catch a mouse scampering across the food prep counter.
A customer captured the scene on video as the mouse, fleeing a person trying to trap it, leapt into a fryer full of hot grease.
On the video, an employee can be heard asking, "Who else needs a refund?"
The video was posted to Facebook, prompting Whataburger to comment that the location had been closed and "the entire restaurant has since been cleaned and sanitized." [Austin American-Statesman, 9/3/2019]

• Police in Hamilton Township, New Jersey, say an unnamed 80-year-old woman snoozed right through an apparent carjacking on Aug. 28 -- even though she was in the car. The victim told police she had fallen asleep in her car, parked in her driveway, around 9 p.m. that evening. She called police around 4 a.m. to say she woke up on the driveway and her car was gone, but she had no recollection of how she got there, the New York Daily News reported. Police observed a fresh abrasion and bruise on her face. The car was recovered later that day in Trenton, but the search is still on for suspects. [Daily News, 8/30/2019]