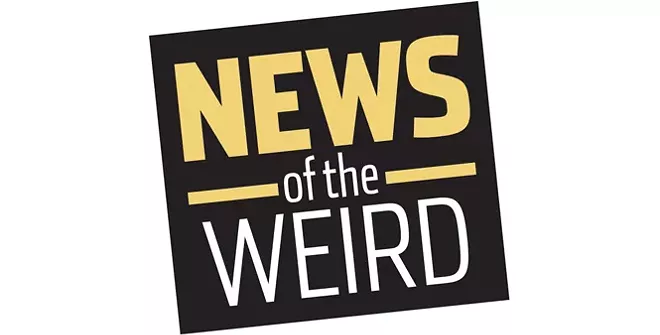 •
A man named Tang from Sichuan Province, China, promised his girlfriend, Yang, that he would buy an expensive luxury car for her. The only problem was that he didn't have the money.
So he cooked up a scheme, inviting Yang and her brothers to the Chengdu car dealership, where he had allegedly put down a 10,000 yuan payment.
Tang asked the group to wait there while he went to get the cash, but instead, according to Shanghaiist, he went to a supermarket and bought a fruit knife.
Outside, he found a secluded spot and cut up his own arms, then called Yang and said he had been robbed at knifepoint of the 750,000 yuan he had supposedly withdrawn for the car.
While her brothers took Tang to the hospital, Yang waited for police, who eventually excised the story from Tang. He was sentenced to 10 days in jail and a 500 yuan fine. [Shanghaiist, 8/23/2018]
• Social media have given us the dubious opportunity to document all manner of celebratory, mournful, hilarious and contemplative events. And so they have opened the door to fame for "Paul Flart" (real name: Doug), a 31-year-old hospital security guard who took to Instagram in to share with the world his "sphincter sirens."
Flart spent a lot of time sitting around at the front desk with nothing to do, but, he noticed, "The lobby has really great acoustics, and naturally, we all fart. One day I ripped a rather nice one and got really good sound from it, so the next time it happened I recorded it and sent it to my group chat."
Those lucky friends encouraged him to go viral and helped him choose his Insta handle, Paul Flart.
Today, he's racked up more than 20,000 followers, according to Vice. Unfortunately, hospital management isn't among them, and Flart was fired from his job.
But he's not deflated; he plans to expand his reach: "We can do Paul Flart on vacation, you know, throw in like a Hawaiian shirt and a hat ... and then just fart around Florida." [Vice, 8/23/2018]