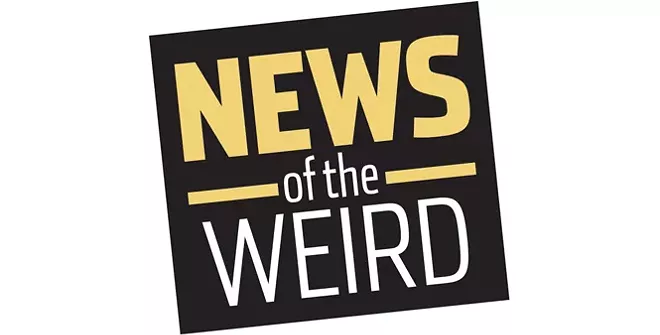 •
The public works department in San Francisco gets, on average, 65 calls EVERY DAY with complaints about feces on the sidewalk.
Public works director Mohammed Nuru and the city's mayor, London Breed, put their heads together and came up with a solution: the Poop Patrol.
In mid-September, five public works employees with a steam cleaner began scouring poop "hot spots," such as the Civic Center, Tenderloin and South of Market neighborhoods, during the afternoons to clean up what nature has left behind.
(Another team also cleans overnight.)
Officials told the San Francisco Chronicle that the waste comes from dogs and people, and the mayor recently allotted about $1 million for new public restrooms.
"I just want the city to be clean," Mayor Breed said, "and I want to make sure we're providing the resources so that it can be." [San Francisco Chronicle, 8/14/2018]
• Mason Tackett of Floyd County, Kentucky, told WYMT that neighbors called him to say his cousin, Phillip Hagans, was carrying items out of Tackett's house.
When Tackett returned home, he said, "It looked like he was packing up for a yard sale when he come out."
Hagans was "lying, throwing his hands, saying stuff like, 'I didn't do it. I didn't do it.' ... He did pull a gun on me," Tackett said.
But what he really couldn't understand was Hagans' choice of items to steal: a cheese grater, an empty Lysol bottle and soap.
"Who steals a cheese grater?" Tackett asked.
"He stole my soap. Who steals soap? ... Must have been a bad batch (of methamphetamine) around here 'cause Floyd County has gone crazy in the last four days."
Hagans was charged with receiving stolen property and being a convicted felon with a firearm. [WYMT, 8/26/2018]