Jewish World Review Oct. 14, 2004 / 29 Tishrei, 5765

Zev Chafets
Kerry is telling tales in church
http://www.jewishworldreview.com | Last Sunday, John Kerry told a fib in church. Speaking from the pulpit of the Friendship Missionary Baptist Church in Miami, he claimed a million African-Americans were denied the right to vote in 2000.

Even Al Sharpton, who was standing next to Kerry, admits he doesn't know where that figure comes from.

In fact, the number - which Kerry has been using for months in speeches - is fictional. It is an urban legend that spread in the aftermath of the Florida recount. Not even the U.S. Commission on Civil Rights, whose post-election investigation harshly faulted various aspects of the Florida voting, supports Kerry's assertion.

The commission's report found that Florida officials failed to ensure "efficiency, uniformity and fairness." But its report "does not find that the highest officials of the state conspired to disenfranchise voters."

The commission also did not discover anything like a million victims of disenfranchisement, let alone Jim Crow discrimination. It reported that 180,000 Florida ballots were spoiled in 2000 - 54% of them in majority- black precincts - but attributed this primarily to flawed election management and the inferior equipment given to poor, minority precincts.

Tom Fitton of Judicial Watch, a conservative public advocacy group, disputes even that. His group conducted an audit of the disputed Florida ballots in 2000 and concluded that most of the disallowed ballots were the result of voter error. "We didn't see bad voter systems or examples of racial disenfranchisement," he says. "And don't forget, Florida elections are run by counties. Most of the disputed areas were controlled by elected Democrats. Did they discriminate against their own voters?"

"We have an unfinished march in this nation!" Kerry told the congregation at Friendship Missionary Baptist Church. Obviously, he hopes to fire up the black vote by playing the disenfranchisement card. But just in case blacks are not stirred by his million-man march, the disenfranchisement charge will be put to a less heroic use - as the basis for election-busting lawsuits.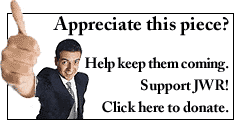 "If it's close in any state, there will probably be a legal challenge," says Sharpton. "After what happened in Florida, there's precedent for a recount." Sharpton and his fellow Democrats already are examining potential challenges in Ohio, Pennsylvania and Michigan.

But the Republicans have lawyers, too. "If the GOP loses a close race, it will challenge where it legally can," predicts Fitton. Some of these lawsuits could be in states that do not have a large black population, such as Oregon, New Mexico, Minnesota, Iowa and New Hampshire. The GOP could turn any of them into this year's Florida, based solely on the run-of-the-mill irregularities that occur in every election.

But if the Republicans lose narrowly in big industrial states - Michigan, Pennsylvania, Ohio, Florida, perhaps New Jersey - they will wind up challenging the Democrats where Democrats get their votes - urban, often minority, districts. If there are problems (and there will be; it's the nature of elections), Republicans will, in effect, find themselves seeking to invalidate black votes. Which will spur more charges of discrimination.

This is a recipe for chaos. It could hopelessly delegitimize the results of the 2004 contest and have an incendiary effect on race relations. President Bush and John Kerry have a joint responsibility to prevent this from happening. Kerry needs to drop the disenfranchisement card and find other ways to energize African-American voters. And both candidates must agree to accept the results of the election, no matter how close. The stability of American democracy may depend on it.
Enjoy this writer's work? Why not sign-up for the daily JWR update. It's free. Just click here.


JWR contributor Zev Chafets is a columnist for The New York Daily News. Comment by clicking here.
© 2004, NY Daily News