Jewish World Review Oct. 17, 2003 / 21 Tishrei, 5764

Monica Crowley
We are the strongest country the world has ever known, not just because we are a great power, but because we are a good power
Remarks Delivered at the Keeper of the Flame Dinner In Honor of Paul Wolfowitz, Deputy Secretary of Defense; October 9, 2003
http://www.NewsAndOpinion.com | Thank you, Frank Gaffney, for that lovely introduction. I cannot tell you how thrilled I am to be here with so many distinguished and dedicated public servants. Thank you for your service to the country. I am honored to be in your company.
And this — 'what a spectacular evening! You outdo yourself every year, Frank. This has been truly a worthy tribute to a great undertaking. We have accomplished so much in Iraq in such a short amount of time — 'a breathtakingly short amount of time, really. And while there are plenty of naysayers in this country and abroad, our commitment to Iraq remains strong, and we've got right on our side. As long as we stay the course and never, ever give up, the forces for democracy and prosperity and human rights — 'the forces for good — 'will prevail. These things don't happen overnight, but they will happen, and the old nattering nabobs of negativity will be proven wrong, as they always are.
I wanted to say a quick word about my dear friend, Frank Gaffney, and his absolutely wonderful organization, which we also celebrate tonight. I first became aware of Frank — 'you don't really get to know Frank; you become aware of him — 'in the early 1990s when I was working as Foreign Policy Assistant to former President Richard Nixon.
Frank sent a letter to Nixon, requesting a meeting to discuss the obsolescence of the 1972 Anti-Ballistic Missile Treaty, which then-President Nixon had signed with the then-Soviet Union.
Frank was on a mission — 'as Frank is usually on a mission — 'to get that ABM Treaty scrapped, put on the ash heap of history, as it were. And he wanted to get Nixon — 'the American signatory — 'to back away from it, to call it what it was: antiquated, obsolete, and in a new world, even dangerous.
So Nixon saw Frank's letter and said to me, "What do you think? Should I see Gaffney?" I said, "Well, you know, Mr. President, it can't hurt to hear what he has to say." To which Nixon said, "OK."
So one afternoon, Frank came to see Nixon. And he put on an intellectual tour de force on why the ABM should be scrapped. Nixon listened intently, and then thanked Frank for his time but was non-committal on disavowing the Treaty.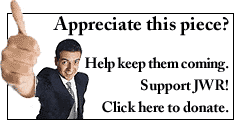 The moment the door closed behind Frank, Nixon turned to me and said, "Gaffney's right, you know."
And as all of us in this room know, Gaffney's pretty much always right! It took a bit of time, but Nixon did disavow the ABM Treaty, which was a major step toward its ultimate demise under this administration. And we all have Frank to thank for spearheading that effort and so many others related to our national security.
As some of you may know, I do regular foreign policy and political analysis on the Fox News Channel. I also host a daily radio program on WABC in New York. The Center for Security Policy is my number one source for information on all foreign policy and security issues. Every day, I turn to that website and their publications for the truth on the issues that matter. I know I'm getting information backed by facts, the stories set in context, and perspective I can't get anywhere else.
And that's also why I've made Frank a regular, weekly guest on my radio program — 'because I know he's going to give my listeners the unvarnished truth. And, of course, the audience loves him. He's a big hit with my audience at home and my growing audience abroad — 'in Israel, Europe, and Australia — 'who listen to the show on the Internet. On those rare weeks when he's on vacation, I get bombarded by listener e-mails, all asking, "Where's Frank?"
On so many issues related to national security, homeland security, the war in Iraq, and terrorism, a lot of what's out there is spin. You never get that with Frank or with the fine analyses that come out of the Center. You get the facts — 'which are, at times, scary — ' and you get common sense. Can't ask for more than that.
We are all in this room tonight because we appreciate the important, good work the Center does and we all want it to be able to continue doing that work. But there's only one way they can continue fighting the good fight —and that's if we continue to give the Center our generous material and moral support. Please continue to give what you can to support the Center's work, and encourage your colleagues and friends — 'and people off the street! — 'to do the same.
We're in a life and death struggle here against forces that seek to destroy us. The Center for Security Policy is one organization that is — 'and always has been — 'interested in doing the things necessary protect us. We are safer today because of the Center's tireless work. And I thank Frank and the Center for that.
Remember: We are the strongest country the world has ever known, not just because we are a great power, but because we are a good power.
Thank you, good night, and G-d bless America.
Every weekday JewishWorldReview.com publishes what many in Washington and in the media consider "must reading." Sign up for the daily JWR update. It's free. Just click here.

Monica Crowley is an on-air political contributor for FOX News Channel and a radio host on WABC in New York. From 1990 until 1994, she served as foreign policy assistant to President Richard Nixon and wrote two books, Nixon Off the Record and Nixon in Winter. She holds a doctorate in international relations from Columbia University. Comment by clicking here.

© 2003, Monica Crowley