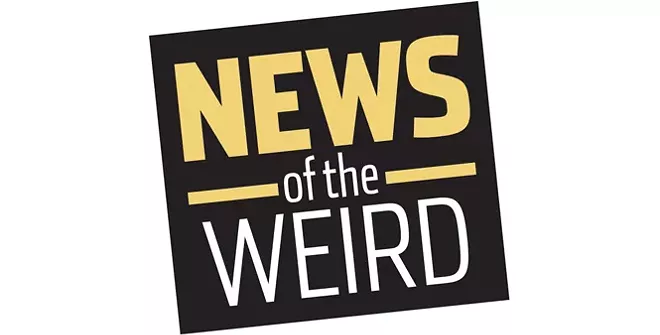 • Residents of Sioux Falls, South Dakota, have been cheered recently by the unexpected presence of a corn stalk growing up through a crack in the pavement at a busy intersection.
Dubbed the 57th Street Corn, the stalk had its own Twitter account and was hailed as a symbol of resiliency and hope in hard times; Mayor Paul TenHaken called it "amaizing."
But on Aug. 19, the Argus Leader reported, neighbors found the plant had been ripped from the ground overnight, prompting sorrow on social media and a flower memorial.
"I didn't want to see her story end like that," said resident Chad Theisen.
Together with his children, Theisen rescued the corn stalk, renamed it Cornelia and is nursing it back to health in a 5-gallon bucket.
He hopes to find a permanent home for Cornelia, now a local celebrity, with the city's help. [Argus Leader, 8/20/2020]
• Sheriff's deputies in La Push, Washington, said they received a report of a suspicious person trying to rent an airplane without a pilot's license or insurance at the Jefferson County International Airport on Aug. 18.
The man, later identified as Richard Jordal, 59, then tried his luck at Tailspin Tommy's, another plane rental business at the airport, KIRO reported, and was again refused, but surveillance video showed Jordal returning later to steal the keys to a Cessna airplane, which he fueled up before taking off and flying erratically, according to authorities.
Business owner Nataliya Yeshyrina and her husband watched the plane on radar: "Altitude would change dramatically from 5,000 feet to 2,000. Up and down and then doing loops and doing twirls."
Authorities said a possible plane crash was reported around 10:30 p.m., but no wreckage could be found in the heavily forested area that evening.
A U.S. Navy helicopter crew returned the next morning and found the plane, with Jordal unconscious inside. He was taken to a hospital in critical condition. [KIRO, 8/19/2020]