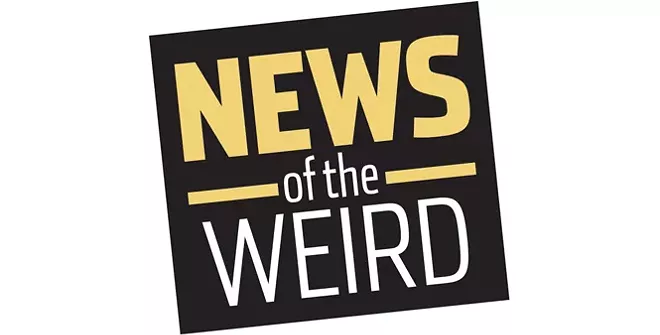 • A July 29 headline in the Ken-Ton Bee in Kenmore, New York, caught the attention of The Buffalo News: "Leprechaun spotted looting cars on Hamilton Boulevard."
Kenmore Police Capt. A.J. Kiefer told The News a white male with orange hair and wearing a green shirt (and "possibly plaid pants") was reported to be looting vehicles on the street July 23. Police arrested the 36-year-old, who measured 5 feet 11 inches and had someone else's debit card, but no pot of gold, according to Kiefer.
He was charged with petit larceny. [The Buffalo News, 7/30/2020]
• After pub owner Steve Cotten jokingly announced in July that the beer garden at the Poltimore Arms in Devon, England, would become the Yarde Down International Airport for the summer, offering sightseeing flights, he was surprised to receive an official letter from Exmoor National Park Authority's planning officer expressing concern about the change:
"We have a duty to look into such matters to understand if there is a breach, and if so, whether any action is necessary." Devon Live reported Cotten responded promptly in a social media post, saying, "All long haul flights have been suspended forthwith ... We apologise for any delays, and remind you that the departure lounge facilities are still open."
The park authority replied with good humor, and the taps remain open. [Devon Live, 8/4/2020]