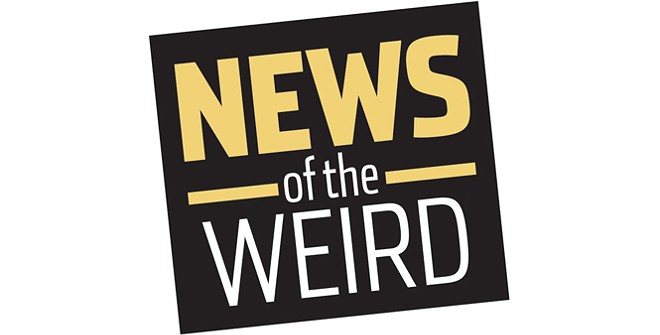 • In Hudson, Florida, Pasco County deputies arrested 46-year-old Keith Mounts on a felony aggravated assault charge after he allegedly threatened an unnamed man with a machete.
A sheriff's office spokesperson said the two men were at the victim's home on Aug. 24 when Mounts used the bathroom and "didn't flush, and when the victim called him on it, the suspect threatened" to "chop" him, according to Newsweek.
The arrest report said officers found the machete in the yard, and Mounts told them he was using it to defend himself, but he couldn't say from what.
He did provide a written statement saying simply, "S--t happened." Touche! [Newsweek, 8/27/2019]

• If you've experienced one (or more) flat tires in Sherburne County, Minnesota, over the last few weeks, News of the Weird is now able to tell you why.
Jeffrey Scot Caouette, 63, of Elk River admitted to authorities in late August that he had purchased 55 pounds of sheetrock screws (that's more than 12,000 screws) and scattered them on local roads to "slow down" a person he believed was in a relationship with his ex-girlfriend.
Specifically, KSTP reported, he put the screws on the road where he believed the man lived and on the roads between that house and the ex-girlfriend's house, among others.
The arrest complaint notes that Big Lake police have received more than 100 reports of damage from the screws, including to three of their own vehicles.
Caouette was charged with first-degree property damage. [KSTP, 8/28/2019]