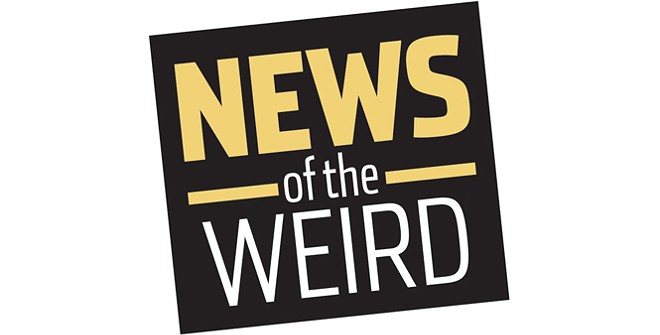 • Jacob Pina, 20, of Westport, Massachusetts, can't explain his physical oddity, but that's not stopping him from firmly grasping his 15 minutes of fame.
Pina, recently dubbed "Thumb Boy," unveiled his unusually long (5 inches) right thumb on the TikTok app on Aug. 24, reported Metro News.
"There's no reason it's so big just an anomaly," Pina posted. "I feel great about it. It's always great to be different and embrace your own essence."
Pina has gained 145,000 followers on the app -- and he's never lost a thumb war. [Metro News, 8/29/2019]

• Firefighters near Estacada, Oregon, rescued a woman on Aug. 20 who had been trapped in a septic tank on her rural property, possibly for two or three days.
The unidentified woman, who lives alone, couldn't alert neighbors of her predicament because they live out of shouting range.
Her daughter found her after becoming concerned when she was unable to reach her mother for four days.
Firefighters told KATU that work appeared to be being done on the tank -- a hole had been dug exposing the tank, which had a rusted 2-by-2-foot hole in its lid.
The woman had apparently fallen through the hole and was lying in sewage, with her face just above the surface, when rescuers got to her. They did not see any visible injuries on her, but she was transported to a hospital in Portland. [KATU, 8/22/2019]