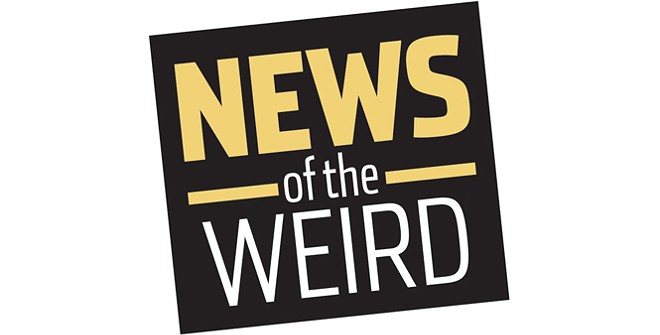 • Dave Schmida, 21, of Sturbridge, Massachusetts, set out on Aug. 12, determined to get rid of a hornet's nest three stories high under a corner of his family's roof. He first tried spraying the nest with Raid, but when that didn't work, he got creative.
As his brother Matthew recorded video of the extermination, Dave lit up a Roman candle and pointed the fiery balls at the nest, reported the Worcester Telegram.
The first two or three missed their mark, but when his ammunition connected with the nest, it burst into flames, killing the wasps but setting the eaves on fire as well.
Schmida rushed up to a nearby window and used a fire extinguisher to put the flames out. "I would say mission accomplished," he said, even though there is now a small hole in the house. [Worcester Telegram, 8/15/2019]

• A day of fishing on Lake Champlain became more memorable than most when Debbie Geddes of Plattsburgh, New York, reeled in a trout worthy of a social media storm: It had two mouths.
Geddes and her husband were fishing in mid-August when the unusual catch took the bait, WPTZ reported. Geddes' co-worker Adam Facteau posted pictures to Facebook and said he's heard many theories about what caused the fish's deformity -- including that it's an offspring of the lake's famed monster, Champy.
Geddes threw the trout back after snapping some photos. [WPTZ, 8/21/2019]