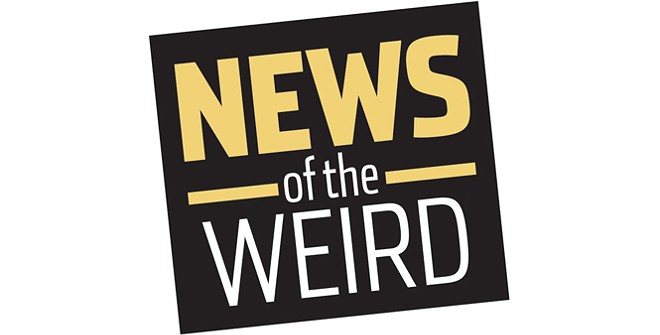 • Late-night TV host Jimmy Kimmel brought the town of Dildo, Newfoundland and Labrador, continent-wide attention in mid-August when he gifted the community a Hollywood-style sign installed on a hill above the town.
Soon, Canadian adult toy company Our Pleasure posted a video to Facebook featuring some of its products in front of the sign and at other locations around the town, reported The Telegram, inciting anger among some residents.
"They went too far with this," said Andrew Pretty, a member of the town's local service district committee. "They had one picture right next to the playground ... it's not right."
Our Pleasure owner Cathy Daniels described the video as "more of a fun video," but townspeople don't see the humor.
They are circulating a petition asking Our Pleasure not to use photos of Dildo for its advertising and social media campaigns. [The Telegram, 8/20/2019]

• In Stockholm, Sweden, an unnamed man attending a traditional crayfish party at the Skansen Aquarium was delivering a speech while standing on a rock in a restricted area.
As he spoke, he rested his arm on a glass barrier -- until the crocodile who lives in the tank "jumped up and grabbed his lower arm," Jonas Wahlstrom, owner of the aquarium, told CNN.
But that isn't the weird part of the story. The dastardly crocodile in this story was formerly owned by ... Fidel Castro.
The croc was one of two given to a Russian cosmonaut in 1970, who took the animals to Moscow.
Wahlstrom eventually brought them to Stockholm.
The croc "lost its grip after 10 seconds," Wahlstrom said, leaving the victim with injuries to his lower arm and hand. [CNN, 8/21/2019]