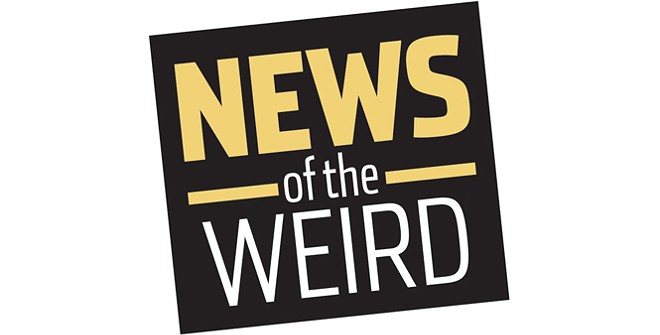 • The Richmond Times-Dispatch reported on Aug. 11 that in the overnight hours, more than 50 old-style television sets had been deposited on the front porches of homes in Henrico County, Virginia.
Henrico Police Lt. Matt Pecka said the culprits were caught on several doorbell cameras, with one of the videos showing a person wearing TV-shaped headgear while dropping off the TV.
Even more puzzling, a similar phenomenon happened last year in nearby Glen Allen, where 20 sets were left on porches.
Pecka said the only crime that might have been committed is illegal dumping: "We don't believe there's any reason for the community to be alarmed." [Richmond Times-Dispatch, 8/11/2019]

• A Twitter user known only as "Dorothy," 15, was banned from her phone by her mom in early August after becoming distracted while cooking and starting a fire, but that didn't stop her, reported The Guardian.
First she tweeted from a Nintendo 3DS gaming device, but Mom caught on quickly and posted that the account would be shut down.
The next day, Dorothy tweeted from her Wii U, assuring followers that while Mom was at work, she'd be looking for her phone.
Finally, on Aug. 8, with no other options left, Dorothy reached out to Twitter from an unlikely source: her family's LG smart refrigerator.
"I am talking to my fridge what the heck my Mom confiscated all of my electronics again," she posted.
The post went viral, even prompting LG to tweet about it with the hashtag #FreeDorothy. [The Guardian, 8/13/2019]