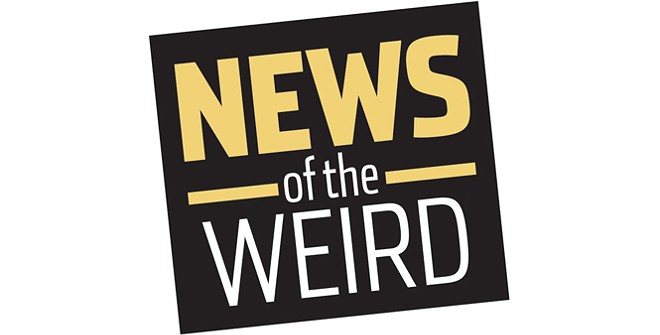 • Kim Gordon, 55, vanished on Feb. 25, according to his 17-year-old son, after going for a nighttime swim at Monastery Beach in Monterey, California, an area with a deadly reputation sometimes called "Mortuary Beach."
The Associated Press reported that police searched for three days before learning the Scotsman from Edinburgh, also known as Kim Vincent Avis, faced 24 charges of rape in Scotland, which made them suspicious about the story.
"When that came up, we start to wonder if this is a hoax," said Monterey County sheriff's Capt. John Thornburg.
Finally, on July 26, the U.S. Marshals Service announced it had caught up with Gordon in Colorado Springs, Colorado, where he is now being held; the son had been returned to Scotland and will not be charged with filing a false report. [Associated Press, 7/27/2019]

• Keep up with us here: On Aug. 1, identical twin brothers Andy and Chad Baker of Nashville, Tennessee, were on their way to the annual Twins Day Festival in Twinsburg, Ohio, in their identical blue Tesla Model 3s, when an Ohio state trooper pulled them both over for having identical license plates, reading "SUBJ TO."
The brothers patiently explained to the officer that the plates are, in fact, different: In one, "TO" is spelled with a zero, and in the other, it's spelled with a capital O.
"Nobody likes getting pulled over by police, we were both nervous, but it's a great story and we will tell it all weekend," Andy told Fox8. [Fox8, 8/1/2019]