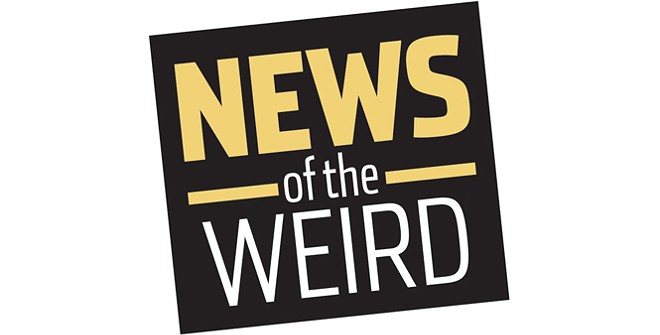 • Lake Worth, Florida, homeowner Phil Fraumeni emerged from his house on July 19 to find a white Tesla not only parked on his lawn, but tethered to an outlet on his house, charging the car's battery.
Fraumeni told WPBF he waited a couple of hours, then called police. The car was not stolen, and police were able to contact the owner, who showed up around noon and told Fraumeni he had been visiting friends in the neighborhood when the battery died around midnight.
Fraumeni declined to press charges (pun intended) and did not ask for reimbursement for the 12 hours of electricity the car used. [WPBF, 7/23/2019]

• Alex Bonilla, 49, took revenge to an extreme on the man he told police he had caught cheating with his wife in May, according to WCJB.
On July 14, Gilchrist County (Florida) Sheriff's deputies said, Bonilla entered a house in the town of Bell, firing a gunshot and forcing a man inside into a bedroom, where he tied the man up and, using scissors, cut off his penis, which he ran away with.
Later that day, deputies arrested Bonilla at his place of employment; his bond was set at $1.25 million.
The family of the victim declined to comment, but said through the sheriff's office the victim was doing well medically. [WCJB, 7/17/2019]