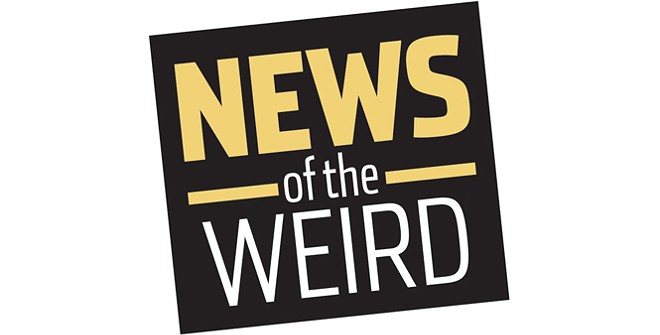 • Rapper, sports agent and self-proclaimed "Mr. Alabama" Kelvin James Dark, 37, of Talladega, Alabama, was arrested in Atlanta, Georgia, on July 10 after allegedly throwing multiple kilograms of suspected methamphetamine off a high-rise balcony onto a street below.
In a press release titled "It's Raining Meth," the Georgia Bureau of Investigation said its agents were searching the property as part of a smuggling investigation when the drugs went overboard.
Agents were able to recover the drugs, valued at an estimated $250,000, and also found two semi-automatic rifles, a handgun, marijuana valued at $60,000 and a "substantial" amount of cash, AL.com reported.
Dark and 33-year-old Tiffany Peterson of Atlanta were arrested for trafficking meth and marijuana, among other charges.

• Roger Bridenolph, 49, of Springdale, Arkansas, was arrested on July 15 after a puzzling series of events.
First, Bridenolph verbally assaulted a cashier at a Dollar Tree store, then stole a box of Ore-Ida Bagel Bites, pushing a manager out of the way to get out of the store, according to an arrest report.
When the manager followed him, KFSM reported, Bridenolph hit him in the head with the box of frozen snacks.
Taking his show on the road, Bridenolph headed next door to a Wendy's restaurant, where he slapped a woman.
When police arrived, they struggled to handcuff Bridenolph, but ultimately arrested him for robbery, second-degree assault, resisting arrest, public intoxication and disorderly conduct.