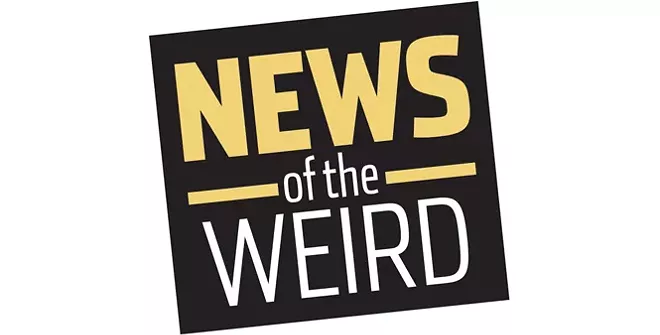 •
West Valley City, Utah, has a malodorous mystery on its hands.
The community stinks, and for the past year, officials have been fielding complaints about the smell, which city communications director Sam Johnson described as "a musty sewer smell ... that you can smell in certain parts of the city stronger," according to FOX 13.
The city has now launched a campaign recruiting residents to help pinpoint the source of the odor: "If you smell something, say something."
They're hoping more complaints will spur Salt Lake County and Utah's Department of Environmental Quality to investigate and take action. [FOX 13, 8/1/2018]
• Zemarcuis Devon Scott, 18, of Texarkana, Arkansas, REALLY wanted to attend a rap concert in another state, so on July 4 he executed his plan to get there: Scott was seen by Texarkana Regional Airport security officers around 2:30 a.m. jumping a fence and trying to get into an American Eagle twin-engine jet parked there.
When police arrived, Scott was inside the cockpit, sitting in the pilot's seat, the Texarkana Gazette reported.
Scott, not a licensed pilot, told officers he thought there wasn't much more to flying a plane than pushing buttons and pulling levers. On July 31, he was charged with commercial burglary and attempted theft; he's been grounded at the Miller County jail. [Texarkana Gazette, 8/1/2018]