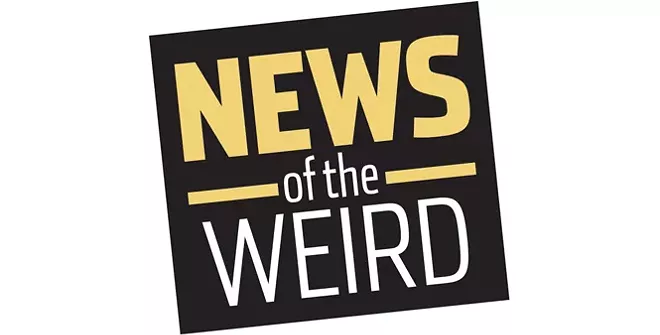 •
Silicon Valley entrepreneurs who have made their fortunes in tech-related fields have discovered a spiritually enriching new guru, Jess Magic, a ukulele player and singer who calls herself a "heartist." At Magic's intimate, invitation-only "Soul Salons" (and now on a 10-city national tour), participants share their energy and join in "songversations" -- philosophical rap and improvised music and dance -- a process Magic calls "a play date for your inner child."
Andrew Hewitt, creator of Game Changers 500, explains: "For people who live most of the time in their head, this feels like magic." The New York Times reported that Magic believes her appeal is in response to the spiritual hollowness wealthy executives feel. "People forget that they are human beings rather than human doings," she said. [The New York Times, 6/29/2018]
• Patriotism inspired Rain Wiggand, 22, and Zane Liles, 21, of Collins, Ohio, to construct an American flag using more than 2,000 Budweiser, Bud Light and Miller Lite beer cans. Wiggand posted pictures of the "beer flag" on Twitter on July 4. "It was a rough month of work for Zane and I," Wiggand confessed, adding that they "averaged somewhere around 14 beers a night for 28 days straight."
Six other friends helped, he said, but they only drank on Thursdays to Sundays. Liles told BuzzFeed News, "It was a monthlong hangover that nothing could cure." However, he said the project had not ruined beer for him. "I can still drink beer with the best of them." [BuzzFeed News, 7/5/2018]