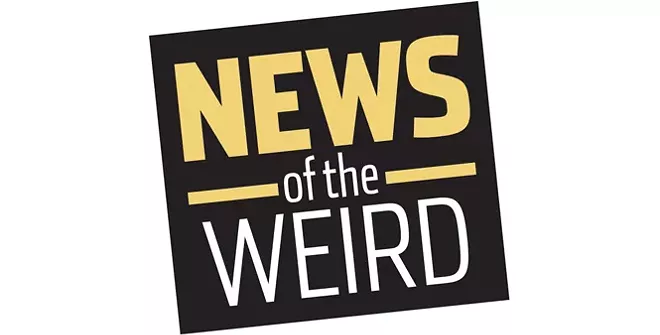 •
Minor league baseball teams come up with some wacky promotional ideas, and "Sugar Rush Night" at the Erie (Pennsylvania) SeaWolves game on June 23 didn't disappoint. WNEP TV noted that one highlight was the cotton candy hot dog: a wiener nestled in a cloud of cotton candy, then sprinkled with Nerds candies.
Brave SeaWolves fans could top off the meal with a cotton candy ball: ice cream covered with sprinkles and enclosed in cotton candy. Maybe the sugar rush was too much for the players; they lost 5-3 to the Altoona (Pennsylvania) Curve. [WNEP, 6/24/2018]
• "ARE YOU BLIND IT 25 MPH" is Ron Ward's in-your-face (and grammatically lacking) attempt to slow down drivers along his street in Grand Rapids, Michigan. Ward has been making signs for years, neighbor Patrick Schmidt told FOX 17 in June. Ward claims, "By the time (drivers) hit this here driveway, they're doing at least 50-55 miles an hour."
He just wants people to follow the Richmond Street speed limit. "Slow down, the whole neighborhood's got kids," he said. The City of Grand Rapids, however, has no specific plans for speed monitoring on the street. [FOX 17, 6/26/2018]