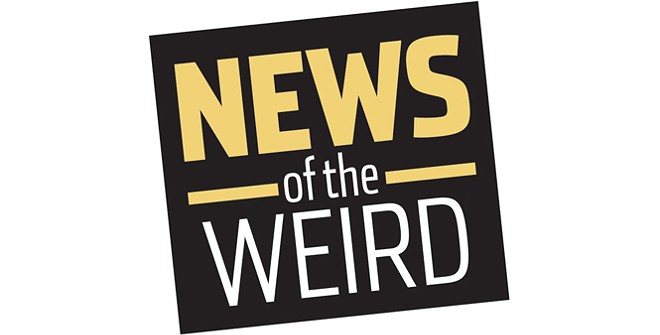 • Women—and men—in Claverham, Somerset, England, are watching their backs as they walk at night, thanks to a man wearing a rubbery "gimp suit" who has been approaching and chasing people, according to the BBC.
An unnamed woman in her 20s was "walking along with my torch and looked up to see someone charging at me in a full black rubbery suit," she told the news service. "He kept coming toward me and was touching his groin, grunting and breathing heavy."
She pushed and screamed at the man, who turned and ran in the other direction.
Avon and Somerset police have increased patrols in the area in order to identify the man responsible.

• The New York Post reported that more than 4,000 Swedes have willingly had microchips implanted in their hands to replace credit cards and cash.
The chips also help people monitor their health and can be programmed to allow access into buildings.
Jowan Osterlund, a former body piercer who pioneered the chips, says the technology is safe.
But British scientist Ben Libberton, based in Sweden, said he worries that people aren't considering the potential dangers, including the unwitting dissemination of data about a person.
"Do I get a letter from my insurance company saying premiums are going up before I know I'm ill?" he wondered.