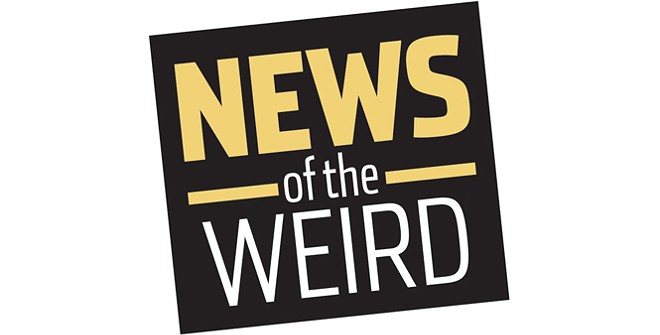 • If you're trying to smuggle a half-kilo of cocaine through airport security, you might want to try harder than an unnamed middle-aged man from Colombia, who was detained in late June at Barcelona-El Prat airport in Spain, according to Spanish police.
The man arrived at the airport on a flight from Bogota and seemed nervous -- and no wonder, what with a comically "oversized toupee" under his hat, Reuters reported.
Spanish police searched him and found a bundle of cocaine, worth about $34,000, taped to his head. [Reuters via The Telegraph, 7/16/2019]

• Four Australian kids took running away from home to a new level on July 13 when they wrote a goodbye note and absconded with cash, fishing gear and an SUV belonging to one of their parents.
The three boys and one girl, aged 10 to 14, left Rockhampton in Queensland and headed south to Grafton, a trip of more than 600 miles.
Along the way, they twice bought gas without paying and survived a short police chase in New South Wales, which was terminated by the highway patrol "due to age of the driver and road conditions," Acting Police Inspector Darren Williams told Fox News.
Around 10:30 p.m. on July 14, police finally caught up with the kids, who locked the doors and refused to exit the car.
An officer broke a window with a baton to gain entry. The young thieves will be charged, but they couldn't be questioned until their parents showed up. [Fox News, 7/14/2019]