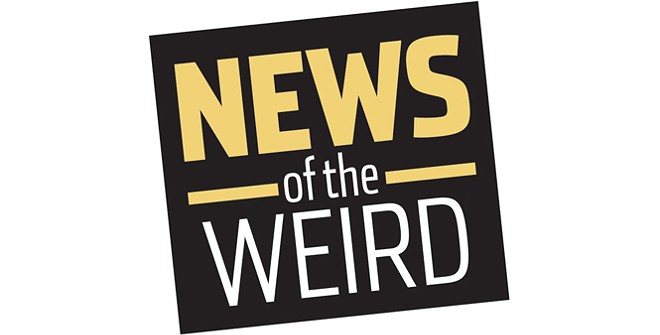 • On the afternoon of July 7, Timothy Smith, 24, and his fiancee returned to their new home in Gresham, Oregon, to find things not quite right.
They noted items out of place, others that didn't belong to them, a mirror ripped out of a bathroom and holes kicked in bedroom walls.
Then they found a cat (wearing a green cashmere shirt belonging to Smith's chihuahua) hiding in a crawl space, The Oregonian reported, and called police.
Fifteen minutes later, officers emerged from the house with Ryan Bishop, 38, wearing the woman's Christmas onesie.
Smith told reporters the man had broken into the home and settled right in, eating a cupcake, making coffee, smoking Smith's weed, playing video games and collecting a clean, warm onesie out of the dryer.
Bishop was charged with first-degree burglary, first-degree criminal mischief and third-degree theft.
Smith is seeking a home for the cat.
His fiancee declined the return of her onesie. [The Oregonian, 7/8/2019]

• Sometimes a routine traffic stop (in this case, for an expired license plate) is the most interesting incident in a cop's day.
So it was on July 10 for Guthrie, Oklahoma, police officers.
Around 11 a.m., they stopped a car driven by Stephen Jennings, 40, who had a friend, Rachael Rivera, 30, in the front seat, and a timber rattlesnake in a terrarium on the back seat.
Jennings told police he had a gun in the car at about the same time they identified the car as stolen, reported KFOR.
Upon further search, officers found an open bottle of whiskey (next to the gun) and a container of "yellowish powder" labeled "uranium." "The uranium is the wild card in that situation," Guthrie Police Sgt. Anthony Gibbs explained.
Jennings told police he was trying to create a "super snake" with the radioactive uranium.
Charges for Jennings included possession of a stolen vehicle and transporting an open bottle of liquor. Because it was rattlesnake season, his valid hunting and fishing license absolved him of any charges related to the snake.
Police are still trying to figure out what charges might be brought regarding the uranium. [KFOR, 7/11/2019]