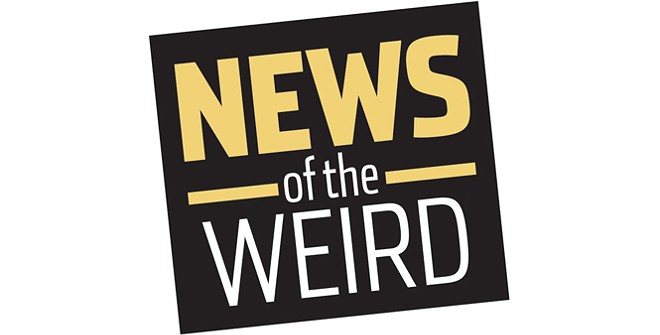 • Car rental companies in Japan began noticing last summer that some customers were putting very few miles on their vehicles, so they conducted surveys to find out what renters are using the cars for, reported The Asahi Shimbun, and discovered that one in eight renters were using cars for something besides transportation, to wit: napping (most popular activity), talking on the phone, eating lunch, watching TV, putting on Halloween costumes and doing stretches said to reduce the size of their face.
One respondent said she uses rented cars to store bags and other belongings because coin-operated lockers are sometimes all in use. Renting is cheap in Japan, costing only a few hundred yen (several dollars). [The Asahi Shimbun, 7/4/2019]

• A plumber renovating the former Centralia High School in Centralia, Illinois, unearthed a 75-year-old trove of memories in late June. Inside a bathroom wall heat vent, he discovered 15 women's wallets, all from students at the school in the mid-1940s.
The cash was missing, but photographs, IDs and other materials were still in the billfolds. "War is ending," said Seth Baltzell, pastor of the City Hope Church, which is converting the building. "So there are lots of things like pictures of soldiers."
Baltzell posted pictures of the wallets on Facebook, and relatives of 89-year-old Betty June Sissom of Chesterfield, Missouri, saw them.
"I remember I lost my wallet," Sissom told KSDK. "Oh my goodness, look at the boy's pictures I have ... They took all the money, huh?" Sorry, Betty. [KSDK, 7/8/2019]