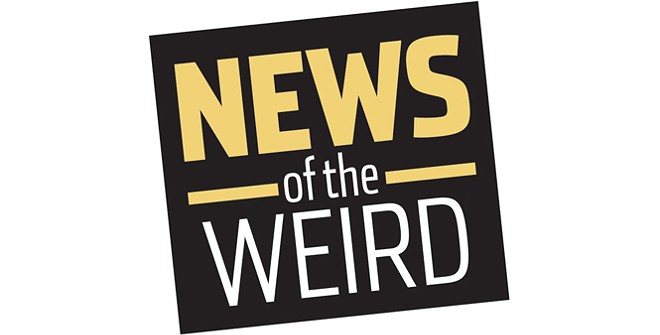 • Serina Wolfe, 24, was about $5,000 mad at her boyfriend, Michael Crane, for his refusal to buy her a plane ticket for her return trip to New York, the Tampa Bay Times reported.
So she used his credit card to pay for an expensive breakfast at Clear Sky Beachside Cafe in Clearwater, Florida, on June 27 -- REALLY expensive, because she left a $5,000 tip for the waitress.
Initially, Wolfe told Crane the charge wasn't hers, and he reported it as fraudulent. But the restaurant had already paid the server the $5,000.
Wolfe, of Buffalo, New York, was charged with grand theft after admitting that she was the big tipper. [Tampa Bay Times, 7/3/2019]

• OK, the first mistake was letting Matthew Morrison, 44, sleep in a tent on your lawn.
A homeowner in Crestview, Florida, allowed Morrison to bunk on the property as a favor to someone he was trying to help. But things went south on July 6, when Morrison entered the home without permission and threw lighted firecrackers under a sleeping 9-year-old girl's bed.
The homeowner chased Morrison out of the house with a stick.
Morrison told Okaloosa County Sheriff's deputies it was a "prank gone wrong," but the little girl was left terrified.
Lt. Todd Watkins told Fox News: "I'm not sure what he was trying to accomplish. The prank thing didn't really sound like it was a legitimate reason."
Well, maybe this had something to do with it: When Morrison was arrested, officers found 2 grams of methamphetamine in his pocket.
Morrison had a prior criminal history, including drug charges; he was charged with burglary and possession of methamphetamine. [Fox News, 7/7/2019]