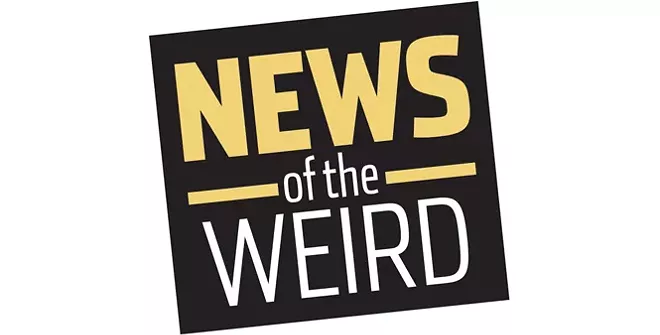 •
During the 2014 World Cup, five friends in Durango, Mexico, made a pact to travel to the 2018 tournament in Russia.
They saved their money, bought a bus, painted it in Mexico's colors and booked passage for themselves and the bus on a ship going to Spain, where The Daily Mail reported, the friends planned to drive the bus to Russia.
But just before they boarded the ship in April, one of the five, Javier, told his friends his wife had put the kibosh on his trip.
So the remaining four did the next best thing: They made a cardboard life-size cutout of Javier, looking grumpy and wearing a shirt that says, "My wife didn't let me go," and set off for Russia.
The cardboard Javier has been very popular at the soccer venues, attracting female admirers, appearing on the big screen, crowdsurfing and being photographed with fellow football fans from all over the world. [The Daily Mail, 6/18/2018]
• In North Port, Florida, a witness watched on June 17 as 75-year-old Helena Molnar beat an unnamed man with a water jug after he watered her plants.
When he emptied the rest of the water in the jug on her plants, she went inside her house and returned with a different weapon, which the witness didn't see but said "made a different sound" than the water jug.
According to WWSB TV, North Port police arrived to find the victim soaking wet, with blood drops on his shirt.
Molnar was charged with battery. [WWSB, 6/19/2018]