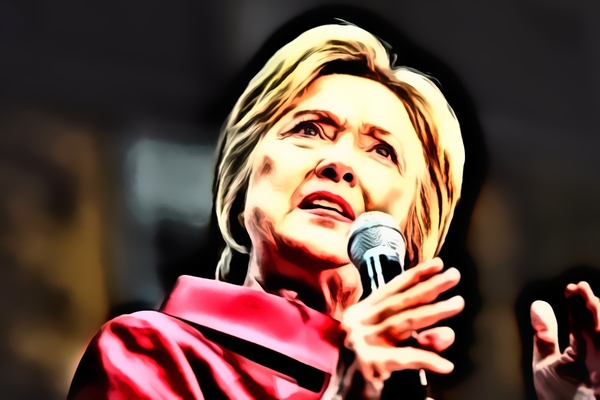 Hillary Clinton is trying to entice Republican voters to ditch Donald Trump by portraying him as outside the mainstream of their party, putting her at odds with congressional Democrats who want to link the party's House and Senate candidates to Trump's controversial brand of politics.
In a speech on Aug. 25 that flayed the Republican nominee as an outlier channeling the views of white supremacists and courting the "fringe element" of his party, Clinton invoked the names of former President George W. Bush, House Speaker Paul Ryan, Arizona Sen. John McCain and former senator Bob Dole, the 1996 Republican nominee, to set up the contrast with Trump.
Republicans who've already voiced their opposition to Trump welcomed having the Democratic presidential nominee make their argument-that he doesn't represent the party or mainstream conservatism.
"I'm glad that even Hillary Clinton recognizes that this isn't our whole party," Katie Packer, a former adviser to Mitt Romney's 2012 campaign, wrote on Twitter. "This is strong," Republican strategist Ana Navarro said of Clinton's praise for past Republican nominees. "It's easily the best speech of any candidate this year," Tony Fratto, a former spokesman for Bush, tweeted.
Democrats are torn about the strategy; some argue that it lets Republicans off the hook for their support of Trump, and minimizes the nativist and nationalist strains within the conservative movement.
"I'm not a fan," said Jim Manley, a former communications adviser for Senate Democratic leader Harry Reid. "I guess I don't blame her for doing that. But as a guy who's also focused on retaking the Senate, I'd sure like them to tie the House and Senate Republican to Trump more than they do."
Reid and Democratic campaign committees have spent the past year trying to link Republican candidates up and down the ballot to Trump. The strategy is "to make all those Republican senators and candidates radioactive come November 8," Manley said.Clinton has scored some prominent Republican defectors, including Hewlett Packard Enterprise Chief Executive Officer Meg Whitman, a longtime Republican fundraiser and former candidate for governor of California, who helped Clinton raise money in the Golden State last week. But no House or Senate Republican on the ballot in November is openly supporting Clinton.
The Clinton campaign was working up a plan to paint Trump as outside the Republican mainstream even before she clinched her party's nomination, raising some discord within the Democratic National Committee. In an e-mail in May published by WikiLeaks after a breach of party computers, Luis Miranda, then the communications director, wrote to DNC Chief Executive Officer Amy Dacey to express his concerns.
"[T]he Clinton rapid response operation we deal with have been asking us to disaggregate Trump from down-ballot Republicans," Miranda wrote in the email. "They basically want to make the case that you either stand with Ryan or with Trump, that Trump is much worse than regular Republicans, and they don't want us to tie Trump to other Republicans because they think it makes him look normal."
"That's a problem," he continued. "We would basically have to throw out our entire frame that the GOP made Trump through years of divisive and ugly politics. We would have to say that Republicans are reasonable and that the good ones will shun Trump. It just doesn't work from the Party side."
Miranda and Dacey were part of a series of DNC resignations after the emails were published in July. DNC Chair Debbie Wasserman Schultz also resigned.
A senior Senate Democratic aide said the two approaches aren't necessarily contradictory, because "the name of the game is depressing Republican turnout, and the best way to do that is to crush the top of the ticket."
A Clinton campaign official, who discussed the sensitive topic on condition of anonymity, rejected the notion that the candidate is undermining down-ballot Democrats. The official said it's not credible to claim every Republican is like Trump, but that Clinton's framing the billionaire real estate developer as an anomaly fuels the argument that Republican candidates who support him are putting party over country.
The Democratic Senatorial Campaign Committee is trying to walk the line between Clinton's dissociation of Trump with the Republican mainstream, and their desire to link him to vulnerable Senate candidates.
"Republican senators and candidates continue to support Donald Trump for president no matter how racist, sexist or xenophobic he is, and every time voters are reminded of how dangerous Trump is, they are reminded that people like Joe Heck, Kelly Ayotte and Rob Portman lack the independence and courage to buck their party and stand up to Trump," said DSCC spokeswoman Sadie Weiner. "These candidates put party loyalty above their country and above commonsense, and we will keep reinforcing how dangerous that is, given their support for Donald Trump."
Clinton spokesman Jesse Ferguson said the candidate is determined to help Democrats win: "Hillary Clinton is deeply committed to building the party, and doing everything she can to help elect Democrats up and down the ballot to create a Democratic majority."
Previously:
• 05/04/16 Ted Cruz's rise and fall is explained by a cruel paradox
• 04/27/16 Up next: Trump aims to prove critics wrong in foreign policy speech
• 02/24/16 Evidence of 'political revolution' in name only
• 01/19/16 Experts say Rubio's economic plan doesn't add up
• 01/06/16 What the 2016 presidential candidates must do to win
• 12/31/15 Six factors that could make a difference for Republicans in 2016
• 11/25/15 Bromance on the rocks: surging Cruz begins to poke Trump
• 09/23/15 Scott Walker's shocking exit: A tipping point in the Republican primary?
• 05/06/15 GOP-backed ObamaCare?