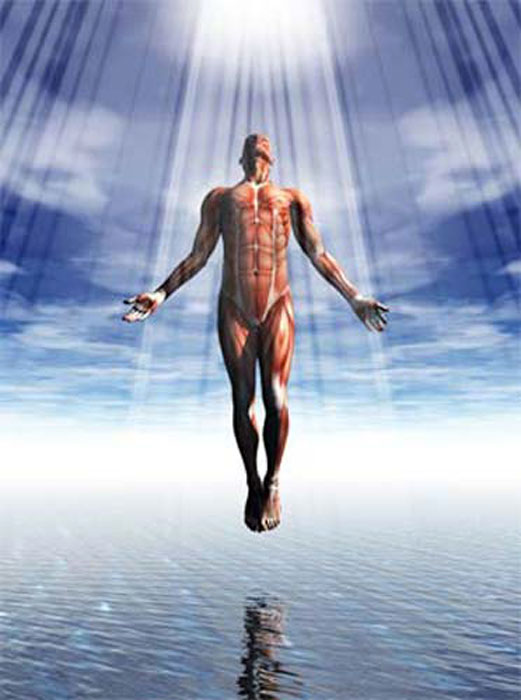 "Maintaining a healthy and sound body is among the ways of G0D --- for one cannot understand or have any knowledge of the Creator, if he is unwell..."
— Maimonides, "Laws of Character," 4:1




Has watching the Olympics inspired you to exercise or stretch your fitness goals? I've been pondering this question for the last two weeks and have sadly concluded that I've actually spent more time as a couch potato in front of the TV during the Olympics than I have all year.
Having said that, I do feel nightly awe at the way human beings can push the body to be stronger, faster, more agile and more disciplined. Watching these athletes is almost a religious experience.
In many faith traditions, the body and soul are regarded as fierce adversaries. The soul is trapped in the body or a victim of the body's desires. The body pushes the soul off the straight and narrow track. This has hardly been the Jewish way. The body is a holy vessel that holds the soul. As such it needs careful tending. Many rabbis over the centuries have pointed to two verses in the beginning of Deuteronomy as proof that we must not harm the body, and we must take excellent care of it. "Do take utmost care and watch over yourselves scrupulously..." [4:9] and "Carefully guard your souls..." (4:15). The Olympics this year happens to converge with the reading of these verses. Coincidence? Maybe not.
  The chief medieval proponent of a healthy spiritual and physical regime is Maimonides. As a physician and philosopher, the care of both body and soul was essential to his worldview. As a keen follower of Aristotle's golden mean, he stressed the need for moderation in the fulfillment of one's physical needs, particularly in his anthology: "Laws of Character."

One should, for example, never eat to full satiation or avoid the benefits of sleep. At the same time, Maimonides advised that people tend the body so that it can house the soul and not for the sake of the body alone. "A person should live by virtue of medicine, but he does not follow a proper path if his sole intention is that his entire body and limbs be healthy and have children who will do his work and toil for him. Rather, he should intend his body to be whole and strong in order for his inner soul to be upright to know G0D. For it is impossible to understand and become knowledgeable in wisdom when one is starving or sick or when one of his limbs pains him" [3:3].
Maimonides repeated this trope often: "Since maintaining a healthy and sound body is among the ways of G0D - for one cannot understand or have any knowledge of the Creator if he is ill - he must, therefore, avoid that which harms the body and accustom himself to that which is healthful and helps the body become stronger." [4:1] He even suggested a morning routine: "The rule is that he should engage his body and exert himself in a sweat-producing task each morning. Afterwards, he should rest slightly until he regains composure and then he should eat." [4:2]
I am not sure Maimonides gave out guarantees, but he was quite confident that if one followed his advise, he would live long and keep Maimonides gratefully unemployed: "Whosoever conducts himself in the ways which we have drawn up, I will guarantee that he will not become ill throughout his life, until he reaches advanced age and dies. He will not need a doctor. His body will remain intact and healthy throughout his life." (4:20)
 
Maimonides believed that taking care of one's body was an expression of wisdom and a way to ensure longevity to engage in spiritual pursuits: "Just as the wise person is recognized through his wisdom and his temperaments and in these, he stands apart from the rest of the people, so, too, he should be recognized through his actions - in his eating, drinking, intimate relations, in relieving himself, in his speech, manner of walking and dress, in the management of his finances, and in his business dealings. All of these actions should be exceptionally becoming and befitting" [5:1]. For a person who is truly wise, intelligence penetrates every life arena.
So maybe as the 2016 Olympic summer comes to an end, it's a good time to consider ramping up your exercise routine and committing to better self-care so that you can live better, longer, stronger and more soulfully. Go for the gold.
Comment by clicking here.
Dr. Erica Brown is a writer and educator who lectures widely on subjects of Jewish interest. She is scholar-in-residence for the Jewish Federation of Greater Washington, DC and a consultant to other Jewish organizations. Dr. Brown is the author of Confronting Scandal, Spiritual Boredom and Inspired Jewish Leadership and co-author of The Case for Jewish Peoplehood. Her "Weekly Jewish Wisdom" column has appeared regularly in The Washington Post. She lives with her husband and four children in Silver Spring, MD.