Jewish World Review August 23, 2004 / 6 Elul, 5764

Joe Scarborough
Not so swift
http://www.NewsAndOpinion.com | Interesting media developments in the Swift Boat ad controversy.

Check out the New York Times front page story from Friday. The Times' aggressive expose on the 260 decorated Vietnam veterans who make up "Swift Boat Captains for Truth" came complete with a do-it-yourself Vast Right Wing Conspiracy chart. All that was missing was the suggestion that Karl Rove and Meryl Streep implanted chips in their brains while these war heroes were serving in Vietnam.
Funny how attack ads by left-wing groups like moveon.org didn't provoke the same moral outrage as this vet ad.

I wonder why these high minded media types never drew charts connecting anti-Bush 527 groups to John Kerry. Oh wait. I know the answer. It's because 90 percent of the reporters and talking heads who work for national news outlets will be voting for John Kerry this fall. If you don't believe me then ask Newsweek's top political gun Evan Thomas, who admitted last month that the majority of reporters in America wanted Kerry elected president.

I don't mind these "journalists" professing profound shock at the Swift Boat ads. Because unlike them, I actually fought in the political arena as a candidate. That makes me skeptical of all political ads. But what is so maddening about the Swift Boat coverage is that these same attack dogs laid down like lap dogs when liberal attack ads filled the airwaves over the past year— all blasting George Bush. And why don't you check the transcripts of your favorite left-leaning talk show and see if these noble warriors of truth raised the slightest concern when a liberal ad ran in 2000 suggesting that George W. Bush committed an act as heinous as dragging an old black man to his death.

Look if you want, but don't expect to find the same shock and outrage being expressed over this Swift Boat ad.

Again, this is the first anti-Kerry ad that has hit the national stage after scores of inflammatory ads ran about George W. Bush over the year. Do these reporters and talking heads have no shame? Are they unable to see the contradictions in their own news articles? And why are they so offended by John O'Neill's book (Click HERE to purchase. Sales help fund JWR.)— the contents of which may be true — when they French-kissed Joe Wilson for writing a book that we now know is filled with lies?

One final thought on these Swift Boat vets. As a Congressman who represented more vets and military retirees than just about any other member of Congress, I know what makes most of these guys tick — and it sure as hell isn't partisan politics. They are about as cynical as me when it comes to politicians.

Instead, most of these aging vets are guided by a sense of justice. Any Northeast liberal reporter who suggests that 260 or so military heroes would spread malicious lies at the end of their lives simply to reelect a Republican president has no idea what drives retired military heroes. That is why it is so offensive to have reporters in New York and Washington (who never spent a day in Vietnam) passing judgment on these Vietnam vets.

By the way, it is just as offensive for reporters to pass judgment on John Kerry's military career when they have no idea how honorably he served his country in Vietnam.

This is a war between Vietnam vets who were there and know what really happened. The rest of us would be smart to sit back, ask tough questions, and see where the truth takes us.

And one more thing. It would probably be a good idea if media types at least tried to look like they were being fair to all sides.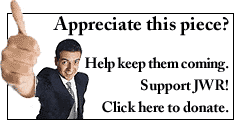 Every weekday JewishWorldReview.com publishes what many in Washington and in the media consider "must reading." Sign up for the daily JWR update. It's free. Just click here.


Former Congressman Joe Scarborough (R-Fla.) hosts "Scarborough Country," 10 p.m. ET, weeknights on MSNBC. Comment by clicking here.
© 2004, MSNBC