Jewish World Review August 5, 2002 / 27 Menachem-Av, 5762

Matt Towery

McKinney, 9-11 conspiracy theorist, in fight for political life




http://www.NewsAndOpinion.com | Throughout the nation, incumbents vying for re-election to Congress are relying partly on their comments, actions and votes in reaction to the 9/11 attacks, in hopes that they will receive additional support from the voters. But in one congressional race, the incumbent's comments and actions may turn out to be an impetus for defeat.

According to a recently completed poll, Congresswoman Cynthia McKinney, D-Ga., is in the fight of her life against former State Court Judge Denise Majette. The poll, conducted by The Marketing Workshop, which has in the past conducted political surveys for numerous major newspapers, including The Atlanta Journal-Constitution, shows McKinney trailing Majette in Georgia's Aug. 20 Democratic primary, 41 percent to 39 percent, with 20 percent of the likely voters undecided.

The survey was conducted the last three days of July and sampled 300 likely primary voters. And as McKinney forces would be quick to note, this poll, like all political surveys, has a margin of error. But while the margin of error for the poll is the standard plus or minus 6 percent, the true "margin of error" might be in some of McKinney's actions related to the aftermath of last September's tragedy, and the reaction it created with both white and African-American voters. Both McKinney and Majette are African-Americans.

Last spring, McKinney, who has always prided herself in speaking out on controversial issues, remained true to form by calling for an investigation into whether President George W. Bush and other government officials had advance notice of the terrorist attacks on Sept. 11. She went on to publicly state that "persons close to this administration are poised to make huge profits off America's new war."

The irony is that McKinney was, in a sense, ahead of the news. Later evidence did emerge that the president had at some point prior to the attack received a general briefing on the threat posed by Osama bin Laden. But McKinney's implication that either the president or other officials might have allowed an attack to take place for potential economic profits led to a national outcry. Even her own state's junior senator, Zell Miller, D-Ga., labeled McKinney's comments "loony."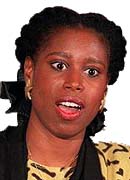 McKinney
Unfortunately for the congresswoman, the accusation concerning prior knowledge by the president was not her first brush with the post-September "margin of error." Shortly after the terrorist attacks, Saudi Prince Alwaleed bin Talal offered $10 million to the City of New York, but then-Mayor Rudy Giuliani rejected the offer because the prince also suggested that the U.S. shared a portion of the blame for the events of 9/11. McKinney wasted little time in firing off a letter to the Saudi prince, lamenting Giuliani's actions and suggesting that he contact her office for a list of charities who could use the funds to assist what her letter termed "Black America."
Again, some of the underlying points in McKinney's letter were arguably valid. But many in Washington and in her home state saw the move as a quick grab for cash that had already been rejected for the unacceptable "terms of receipt."
McKinney is actually a bright and sincere member of Congress. And contrary to her public image, she is also extremely personable and friendly. But in the world of electoral politics, there is a line over which the most articulate of leaders cannot afford to cross. And it appears McKinney has come dangerously close to that line.
The recent poll suggests that many Republicans in this otherwise Democrat-heavy congressional district are considering crossing over to the Democratic primary in order to voice their displeasure with Cynthia McKinney. And the survey indicates that many white Democrats also intend to vote for Majette.
But of much greater importance to the outcome of this race may be the reaction of African-American voters in the district. McKinney's opponent is not well known, yet nearly 20 percent of the African-Americans responding to the poll say they are supporting Majette, with another 25 percent saying they are undecided. A portion of that particular segment of the district's electorate may feel that McKinney's outspokenness has gone too far.
But that remains to be seen. McKinney and her legendary father, Georgia state Rep. Billy McKinney, have long been considered the strongest of leaders among the state's African-American political community. But the polling results suggest that Cynthia McKinney's outspoken nature may have pushed part of that constituency into the corner of her opponent. Almost 20 percent of the respondents who said they voted for McKinney in 2000 stated that they intend to vote for Majette in the upcoming primary election.
Is Cynthia McKinney finished? Not by a long shot. She and her father have never failed to lift the turnout of their supporters to a level necessary for victory. In the fall election of 2000, a last-minute surge by her Republican opponent gave the McKinneys a scare. But true to form, the congresswoman's loyal followers came to her rescue.
The recent poll does, however, point out that new factors such as the crossover of Republicans and defection of white Democrats will be new challenges for McKinney. And "the margin of error"? That statistical polling term will be translated into how many of McKinney's African-American supporters will turn out to vote, and how many will abandon her or just stay home.
Enjoy this writer's work? Why not sign-up for the daily JWR update. It's free. Just click here.


Comment on JWR columnist Matt Towery's column by clicking here.
07/31/02: GOP quietly shoring-up domestic policies
07/25/02: Media snobs need to look beyond New York, D.C.
07/18/02: A letter to President Bush from Outside the Beltway
07/11/02: Dear President Bush: An effort in futility
07/03/02: Updates and freedom
06/27/02: The coming election: Seeking change for the sake of change?
06/20/02: The inside story re the political future of controversial GOPer Bob Barr
06/11/02: On dirty bombs and scare-mongering: Sometimes a columnist wishes he was wrong
06/06/02: The emerging confused GOPer?
05/30/02: In search of an aggressive GOP leader
05/21/02: Anticipating new terrorism: "Dirty bomb" is no fantasy!
05/16/02: The oddity of Carter's legacy
05/09/02: Replay of 1992 coming?
05/02/02: The hottest family on television might have to abandon the United States
04/25/02: One step ahead of devious minds capable of unthinkable crimes?
04/18/02: Alaskan battleground?
04/11/02: How the peaceful fairways of the world's most revered golf course, may serve as a brilliant strategic battleground the most recent round of "cola wars"
04/05/02: The most likely immediate threat to our national security is being ignored
03/14/02: Clinton's influence looms
03/07/02: Poll turns up surprising views on Bush and more
02/21/02: The recession is over --- so why are the sophisticates still using scare tactics?
02/14/02: This Enron story directly affects our own pocketbooks
02/07/02: The epicenter of quiet but powerful shifts in the American political landscape
01/31/02: A little bipartisan hope
01/24/02: Secrets of the past can often provide guidance for dealing with the future
01/18/02: And I thought explaining Jane Fonda was tough
01/09/02: Dubya falling into Dems' trap?
01/02/02: A few adjustments and 2002 might turn out all right
12/27/01 Rudy, the 'perfect excuse'?
12/19/01 Haig the madman?
12/12/01 That senator with the funny name

© 2001, Creators Syndicate