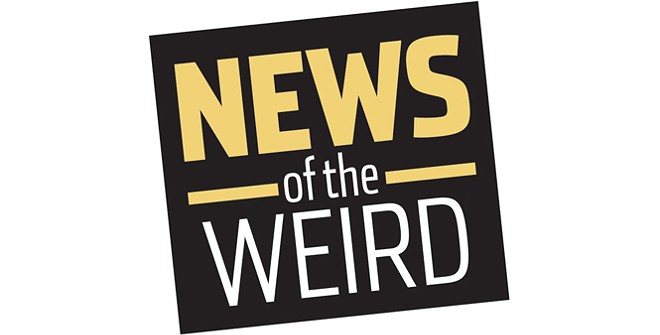 • Holmes Beach (Florida) police posted a query on their Facebook page on June 15 regarding an unusual item that had washed up on the shore and was turned in by a local resident: a prosthetic ear.
Social media did its magic, and the ear and its owner were reunited five days later.
The Associated Press reported that a Beaufort, South Carolina, couple had been vacationing in the Tampa Bay area, and the man was putting the rubber ear in his pocket for safekeeping when a wave knocked it out of his hand.
Police Sgt. Brian Hall said he would mail the ear back to its owner, as prosthetic ears can be very pricey. [Associated Press, 6/20/2019]


• Do you ever wish you hadn't invested in a Ring doorbell?
On June 22, while Wilton Thomas of North Lauderdale, Florida, was at work, his doorbell camera captured a man in a green car pull into his driveway, exit the car, remove his shirt and crouch down to relieve himself.
He used the shirt to clean himself up, then left the mess behind and drove away.
Thomas told WPLG he would have understood if the man had knocked and said, "Man, you know what, I had an emergency. I had nowhere to go, and this is where I had to do what I had to do."
The Broward County Sheriff's Office is investigating. [WPLG, 6/24/2019]