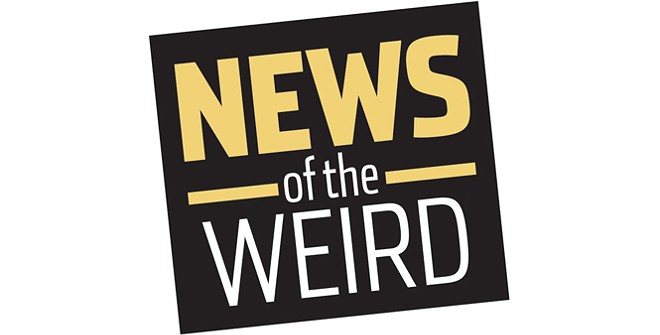 •
Early-bird travelers at Detroit Metropolitan Airport got a rude awakening on June 21 when an unnamed man tried to pass through a TSA checkpoint entirely naked. According to WXYZ, the man approached the checkpoint and removed all his clothing, then removed a barrier and approached a metal detector.
Officers didn't allow him through the metal detector, so he ran around it, where he was caught and covered with plastic trash bags.
A bystander said he was calm and compliant while being detained. Law enforcement determined he was not a threat and took him to a local hospital. [WXYZ, 6/21/2019]


• Roy and Brenda Pickard of Knotts End, Lancashire, England, lived in a 1960s horror film for a week in June as a pair of nesting herring gulls terrorized them each time they emerged from their home. "If I try to go out of the door, the two adult birds are right there, and I've got no chance," Roy told the Mirror.
At one point, Roy was attacked so viciously on the back of the head that he had to go to the hospital for treatment.
Roy contacted animal organizations, but they offered no remedies for the violent birds: It's breeding season, and herring gulls are protected when nesting. "The whole thing has been terrible," Roy lamented. [Mirror, 6/21/2019]