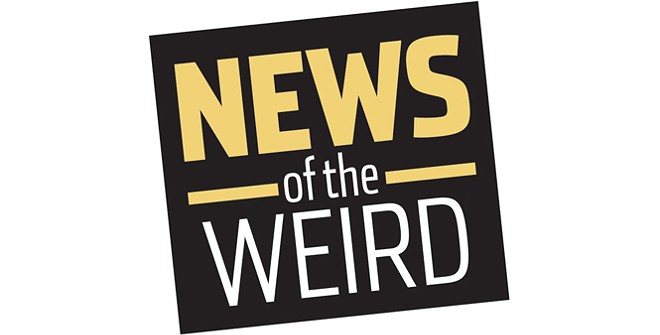 •
The Limestone County (Alabama) Sheriff's Office is on the lookout for Mickey Paulk, 35, after executing a search warrant at an Athens apartment where he was believed to be living on June 17.
While Paulk was not at the apartment at the time, officers did find meth, drug paraphernalia, ammunition and body armor, along with DeezNutz, Paulk's "attack squirrel," in a cage in the apartment.
Sheriff's deputy Stephen Young told The News Courier officers were told Paulk feeds the squirrel meth to keep it aggressive, which Paulk denied in a Facebook video.
Officers released the squirrel into the wild, but Paulk (still on the run) later told news outlets he went back to the apartment and whistled, and DeezNutz returned to him.
A GoFundMe page established to help Paulk pay his legal fees includes a post saying the squirrel has been "safely gotten ... out of Alabama and it is being boarded until his owner's legal issues can be settled."
The Limestone sheriff's office took to Twitter to warn locals to be wary of Paulk: "Mickey Paulk is a fleeing felon with felony warrants unrelated to his squirrel." (UPDATE: Shortly before press time, the Limestone County Sheriff's Office announced on Twitter that Paulk had been arrested.) [News Courier, 6/21/2019]


• Kerville Holness of Tamarac, Florida, thought he'd scored big when his $9,100 bid for a $177,000 villa in South Florida was accepted. The home was part of an online auction in March of properties that had been foreclosed on.
Only later did he find out he paid thousands of dollars for a 1-foot-wide, 10-foot-long stretch of grass between two driveways.
Now the first-time bidder wants Broward County to void the deal and return his money. "It's deception," Holness told the South Florida Sun Sentinel.
"There was no demarcation to show you that it's just a line going through (the villa duplex), even though they have the tools to show that."
Officials aren't sure why the strip of land was put up for auction separately from the properties on either side of it, but they say they can't refund Holness' money. [South Florida Sun-Sentinel, 6/15/2019]