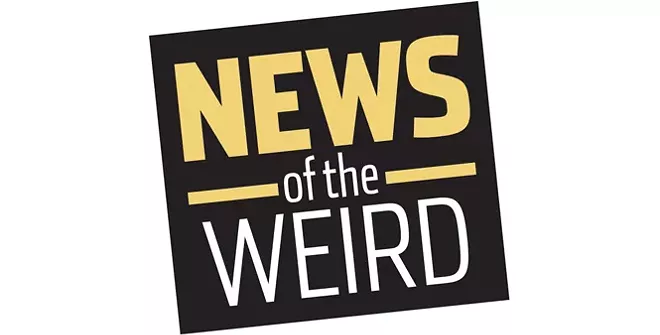 • Making good on his promise, Welshman Mark Williams, 43, celebrated his third world snooker championship by conducting the post-match news conference at the Crucible Theatre in Sheffield, England, in the buff. Williams, who beat John Higgins of Scotland on May 7, is the event's oldest winner in 40 years, Reuters noted. "I'm not going to say anything stupid ... but to be honest if I won this next year, I'd cartwheel down here naked," Williams promised. [Reuters, 5/8/2018]
• The Daytona Beach International Airport was briefly evacuated early on May 11 when John Greenwood, 25, caused a ruckus as he rode around the baggage carousel in the nude, trying to get out onto the tarmac, reported News4Jax.
Sheriff's deputies shocked him with a Taser, to which he responded: "We gotta get outta here, there's a bomb going to go off. I planted a bomb in the bathroom."
After sweeping the airport, officials found no explosives, but Volusia County Sheriff Mike Chitwood said they did find Greenwood's clothes in a backpack hidden in a hole in the bathroom wall.
Described by Chitwood as a frequent flyer, Greenwood is known to local law enforcement, and he admitted taking drugs on Thursday night. He faces several charges after the incident. [News4Jax, 5/11/2018]