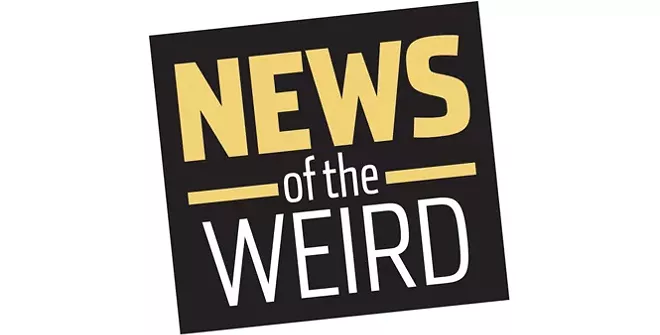 • News of the Weird has written several times (as technology progressed) about Matt McMullen's "RealDoll" franchise - the San Marcos, Calif., engineer's richly detailed flexible silicone mannequins that currently sell for $5,500 and up (more with premium custom features). Even before the recent success of the very humanish, artificially intelligent (AI) android "hosts" on TV's "Westworld," McMullen revealed that his first AI doll, "Harmony," will soon be available with a choice of 12 "personalities," including "intellectualism" and "wit," to mimic an emotional bond to add to the sexual. A recent University of London conference previewed a near future when fake women routinely provide uncomplicated relationships for lonely (or disturbed) men.
• Scientists at Columbia University and the New York Genome Center announced that they have digitally stored (and retrieved) a movie, an entire computer operating system and a $50 gift card on a single drop of DNA. In theory, wrote the researchers in the journal Science, they might store, on one gram of DNA, 215 "petabytes" (i.e., 215 million gigabytes - enough to run, say, 10 million HD movies) and could reduce all the data housed in the Library of Congress to a small cube of crystals.
• An office in the New York City government, suspicious of a $5,000 payment to two men in the 2008 City Council election of Staten Island's Debi Rose, opened an investigation, which at $300 an hour for the "special prosecutor," has now cost the city $520,000, with his final bill still to come. Despite scant "evidence" and multiple opportunities to back off, the prosecutor relentlessly conducted months-long grand jury proceedings, fought several court appeals, had one 23-count indictment almost immediately crushed by judges, and enticed state and federal investigators to (fruitlessly) take on the Staten Island case. In March, the city's Office of Court Administration finally shrugged and closed the case.