Jewish World Review July 9, 2004 / 20 Tamuz, 5764

Joanne Jacobs
Off to college; the wrong blacks; racism first
http://www.NewsAndOpinion.com |
Downtown College Prep, a mostly Mexican-American charter school in San Jose, Calif., has graduated its first class. The school has closed the college preparation gap for Hispanic students, reports the San Jose Mercury News.
All the graduates are going to four-year colleges. Most DCP students are three or more years behind when they start ninth grade. School leaders and teachers work hard to create a school culture that values academic achievement.
Because the school is small, it's easier to create personal relationships with students and parents.
As a charter school, DCP's leaders can determine their mission and their budget priorities and hire and fire teachers. DCP students told columnist Joe Rodriguez what they might be doing if they hadn't taken the challenge of a college-prep school.
"I could be flipping burgers at a Burger King," said Gabriel Hernandez. Instead, he'll be flipping through textbooks at California State University at Monterey Bay next fall.
About half the students who started four years ago didn't make it, though a few repeated a grade and will be graduated next year. These kids — most of them D and F students in middle school — out-perform average students in San Jose Unified in terms of qualifying for college; they've more than doubled the success rate for Hispanic students.
The charter school spends $11,368 per student; $7,083 comes from the state and the rest from donors.
Animo Leadership Charter High School, a nearly all-Hispanic, all-low-income charter school in the Los Angeles area, also graduated its first class, reports the Los Angeles Times. All 125 graduates (out of an initial class of 140) are going to college, trade or technical schools; nearly 60 percent are going to four-year colleges.
The school, which is part of the Green Dot network of non-profit charters, is funded by state and federal funds of about $7,500 per student. SEED, an all-minority charter boarding school in Washington, D.C., is sending all its graduates to college, reports the Christian Science Monitor. Their destinations include Duke, Princeton, Georgetown and Boston University.
Nearly all SEED students are black and poor; "88 percent come from single-parent or no-parent households, and 93 percent are the first generation in their families to go to college."
Students are selected by a lottery. By high school, SEED students outscore other D.C. students. They are much less likely to get into fights or try drugs; they are much more likely to graduate.
The Washington Post profiles a SEED graduate. And a CBS producer also praises the school's safe, learning-centered environment.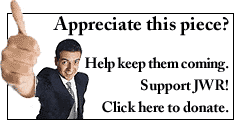 It costs $24,000 per student to provide room and board and round-the-clock supervision in addition to teaching. That's more than double what D.C. spends on the average student. On the other hand, SEED students are going to be educated citizens and taxpayers.
Reform K12 has a heart-warming post on his inner-city charter school's valedictorian, a recent immigrant who'd worked hard to learn English and excel academically. She told her father she feared the family wouldn't be able to pay for college. Her father told her not to let up. He said, "Begin to weave, and God will supply the thread."
Weave she did, pouring her heart and soul not only into her classwork — she's graduating with a 4-year GPA just shy of 4.0 — but into the personal essays required for her applications. She earned a full scholarship to a top college.
Also check out the photo of a graduate who's heading for the Air Force.
The Wrong Blacks
While eight percent of Harvard undergrads are black, they're the wrong blacks, critics said at a black alumni weekend.
According to Lani Guinier, a Harvard law professor, and Henry Louis Gates Jr., the chairman of Harvard's African and African-American studies department, "the majority of them — perhaps as many as two-thirds — were West Indian and African immigrants or their children, or to a lesser extent, children of biracial couples," reports the New York Times.
Guinier herself is the daughter of a Jamaican father and a white mother.A Princeton-Penn study found 41 percent of black students at selective universities say they're immigrants, children of immigrants or mixed race.
"This is about the kids of recent arrivals beating out the black indigenous middle-class kids," said Professor Gates, who plans to assemble a study group on the subject. "We need to learn what the immigrants' kids have so we can bottle it and sell it, because many members of the African-American community, particularly among the chronically poor, have lost that sense of purpose and values which produced our generation.
"Students from poor or working-class families rarely qualify for elite universities.
Racism First
Seattle's school board has committed itself to stamping out "institutionalized racism," reports blogger Stefan Sharkansky. Even though the district is spending its reserves and the finance director is buying lottery tickets, money is no object. The district is spending $200,000 to create an Office of Equity and Race Relations.Sharkansky asked board members what they meant by "institutionalized racism," and prints one substantive reply, which cites the board's training by the People's Institute for Survival and Beyond. Two board members refused to reply because he's a critic of the school board.
Every weekday JewishWorldReview.com publishes what many in Washington and in the media consider "must reading." Sign up for the daily JWR update. It's free. Just click here.


JWR contributor Joanne Jacobs, a former Knight-Ridder columnist and San Jose Mercury News editorial writer, blogs daily at ReadJacobs.com. She is currently finishing a book, Start-Up High, about a San Jose charter school. Comment by clicking here.
© 2004, Joanne Jacobs